Click any of the links below for direct navigation to each page
Jeff's Cool Jeep Wrangler Unlimited (sold!!!)
New Arrival!!! 2008 Ford F450 King Ranch 4X4
Sea Ray 390 Express Factory Model
Kawasaki Ultra 250X Jet Ski now replaced by Ultra 300X!!!
Crazy Things I Have Seen While Driving

1970 Kaiser Jeep M818, 5 ton, 6x6
Nothing special about this, except:
| | |
| --- | --- |
| | It's genuine military! |
| | It's genuine U.S. military! |
| | It's American! |
| | All wheel drive...all three axles live. |
| | Total rebuild in 2006 by the U.S. Government. Engine, transmission, transfer case, axles, brakes, interior, cab, sheet metal, winch, instruments, wipers, top, tires, wiring, radiator, horn, air in the tires....it is all brand new. |
| | Brand new operators, lube, and maintenance manuals. New canvas holders |
| | The original compliment tools were never opened (and remain that way!) |
| | Only 226 miles and eight (yes 8) running hours when I purchased it. |
| | 24 volt military using four 6TL batteries. These are big, expensive batteries! |
| | NHC 250 horsepower Cummins diesel. Naturally aspirated. |
| | 20,000 pound front mounted, PTO driven winch (never used) |
| | Five speed transmission and a two speed transfer case = ten forward gears & two reverse gears |
| | Fifth wheel never used. |
| | |
| --- | --- |
| | Rebuilt by Uncle Sam to be sent to Iraq. It never went! |
| | Eleven New Titan 11.00" X 20" tires. Brand new! |
Fortunately, the State of Texas has a great process to license former military vehicles. Licensing as a former military vehicle, I am restricted to parades, shows, maintenance, and "displays of public interest". The funny thing is every time I drive the M818 seems to be a "display of public interest". As you might imagine, the M818 draws quite a crowd. I have been accused of stealing these military vehicles, as to the clueless, uneducated public, a piece of military equipment of this magnitude can not be privately owned by an individual. Hello! This is America! Anything is possible!
Now for the pictures...
Here is the M818 after a day of detail work by yours truly. Note the desert tan over spray on the tires. The Government is not too worried about masking all parts when they prepare equipment for war. I had yet to Armoral the spare tire in this picture, my apologies. That is remedied now.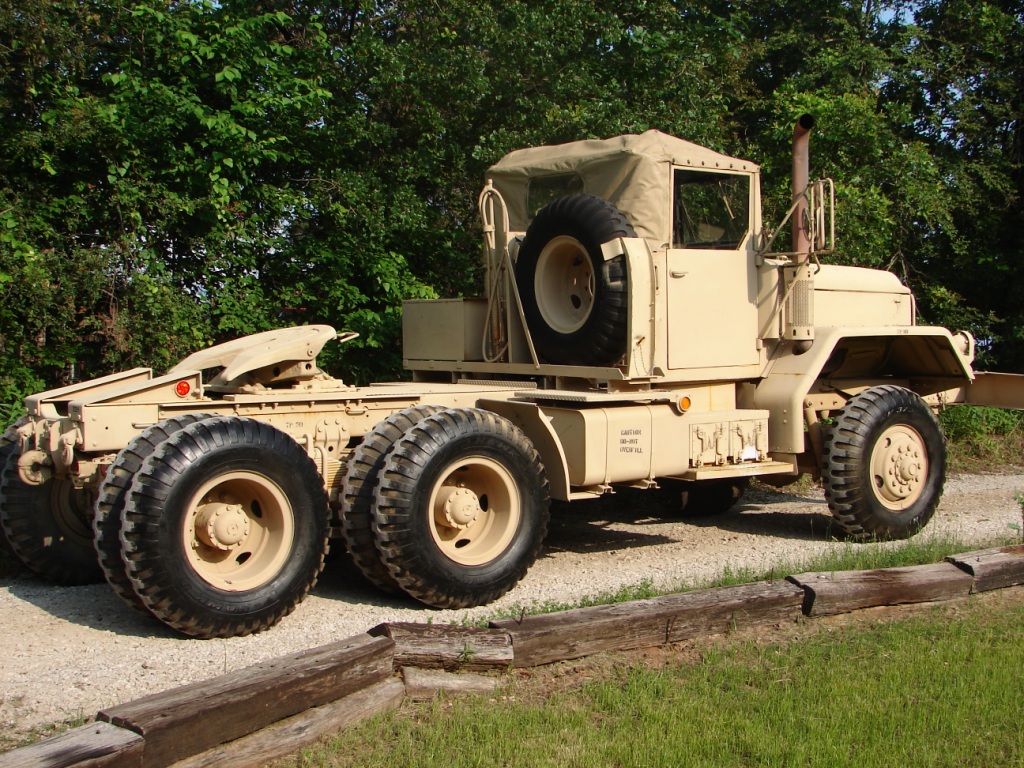 I love the look of the M818. It simply looks like a military vehicle should! It sounds even better. I might have to post of couple of video clips with the engine running, as it sounds so great! Increasing my carbon foot print wherever I go!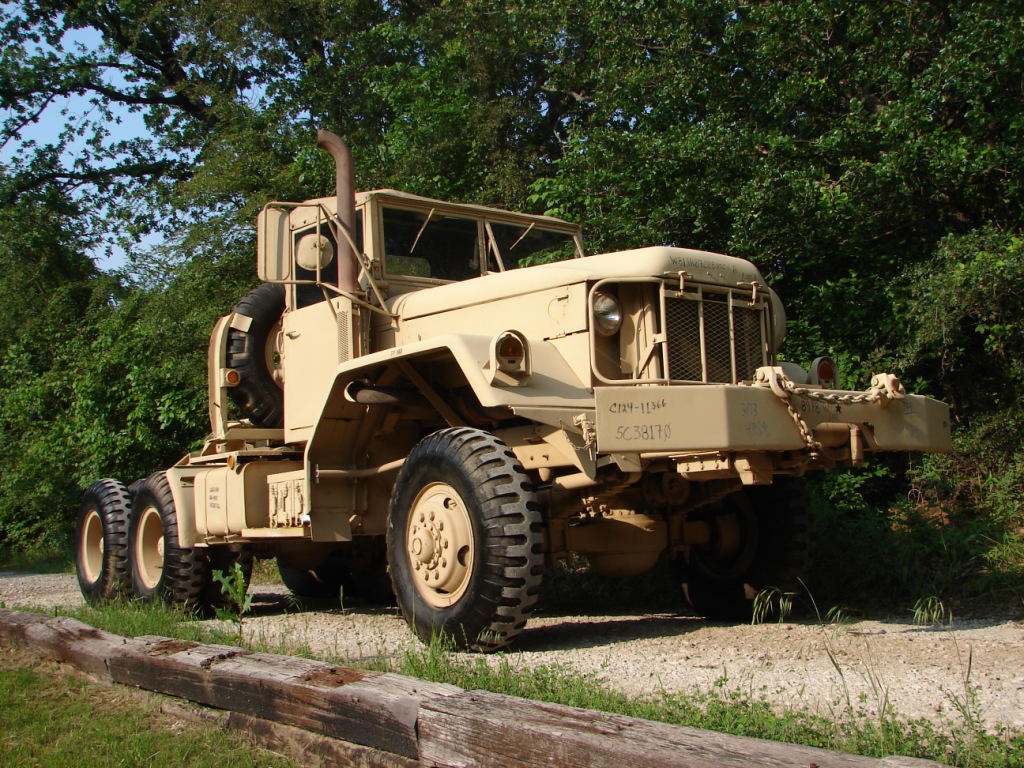 Yes, truly 226.75 miles and 8.8 running hours since the rebuild! The switch plates on the dash still are housed in the protective plastic.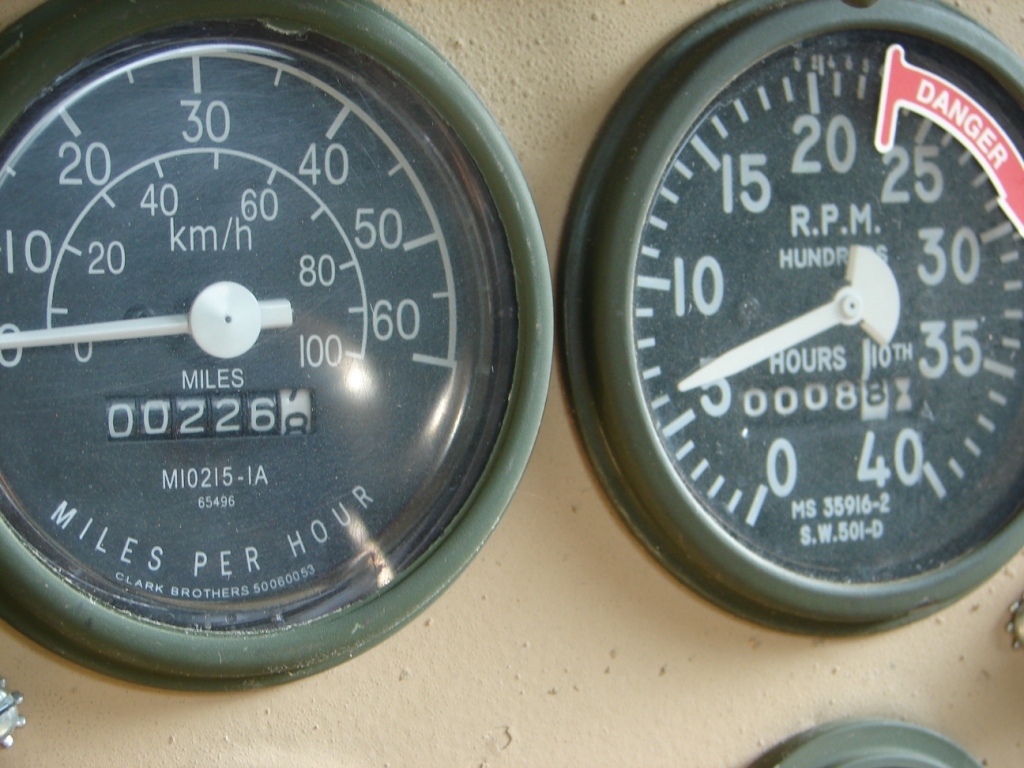 You can see how nice the dash, instruments and switches are. To locate a military vehicle in this condition is a very, very rare find! Note the over spray on the steering wheel. The three lever switch is how the lights are operated - it's natural after a while, but at first it takes time to figure it out. Finally - no ignition key. Most military vehicles do not have keys (don't tell the bad guys). You don't want to be asking "who has the keys" during battle!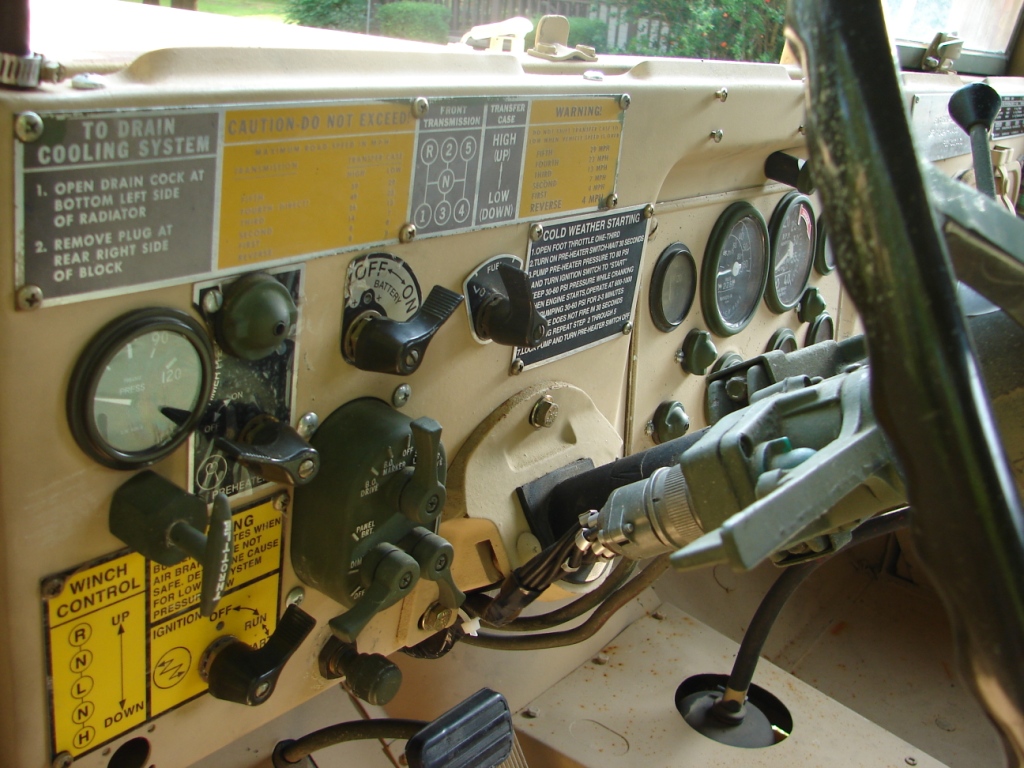 Headed to my town's wonderful July 4th parade, July 4th, 2009. It brings on deep patriotism July 4th operating machines of our Unites States Armed Forces. My heartfelt thanks to the men and women of the U.S. Armed Forces and Public Safety Department across the world that keep our families safe.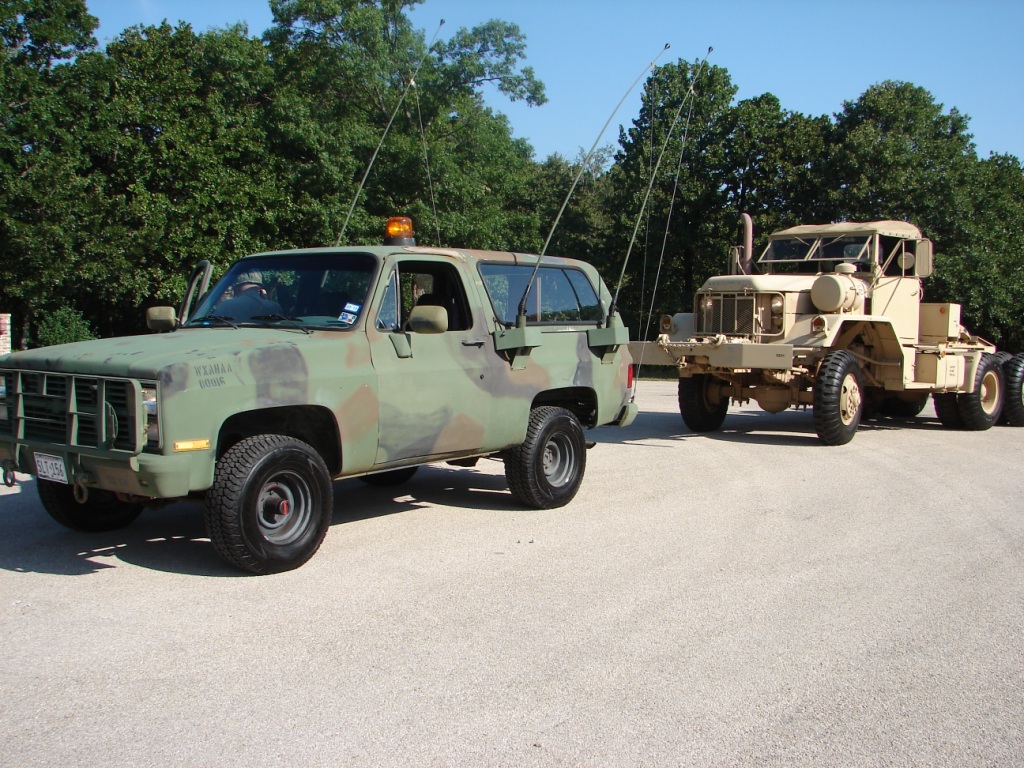 Here we are lined-up at a great local parade with a few of my military vehicle buddies. This parade was great!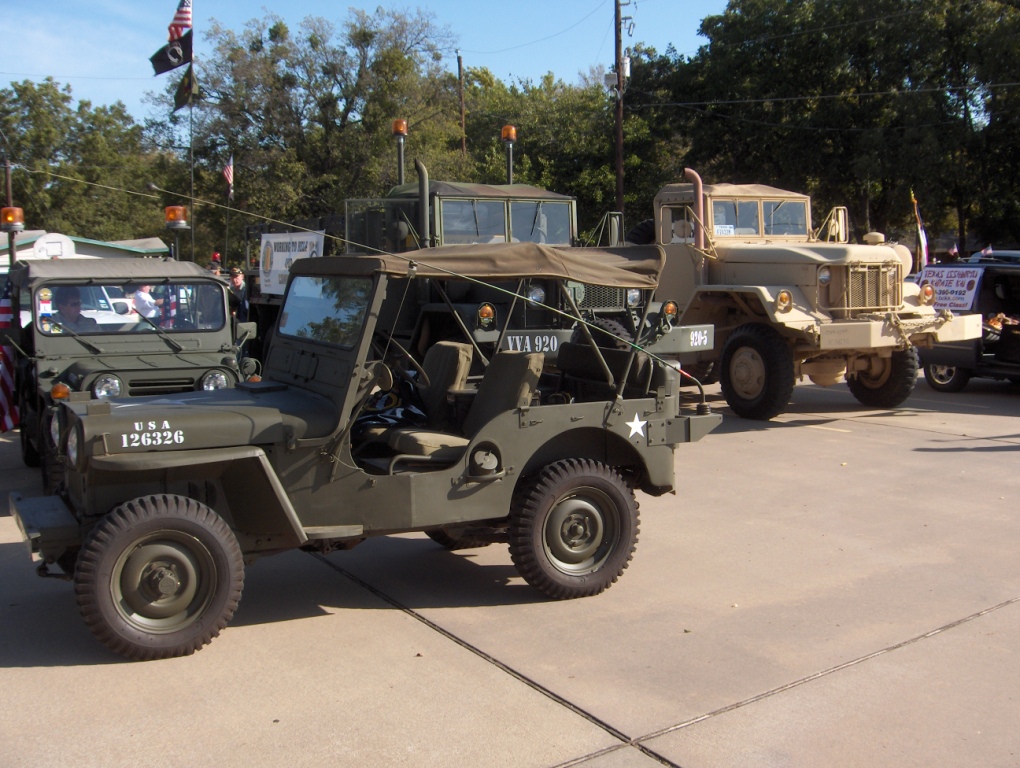 This is the view from the cab during the parade following my friends M35A2C (deuce and a half). This picture provides a sense of the M818 height. Note the crowd and the gorgeous Texas fall weather. It was almost hot on this October day. Small town U.S.A. I love it!!!
An interesting note about the picture below.. the old brick buildings were at one time on both sides of the street, until a tornado wiped clean the brick buildings formerly on the left.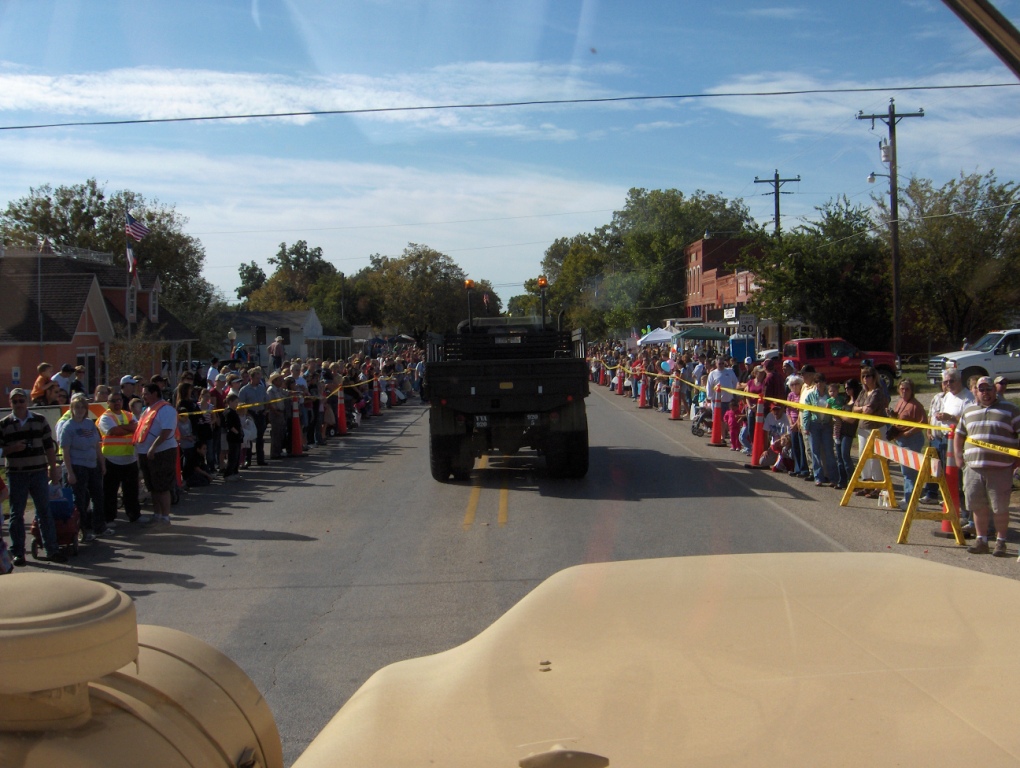 Note: I have many, many more parade pictures with the M818. The horn is super LOUD and when I honk it (and I love to honk it), people really jump, plug their ears, then laugh (some small kids cry). I have learned that if I time my horn and my camera correctly, I capture some funny pictures.
Here are a few quick pictures of horn and camera coordination for your viewing enjoyment...(and they guy with the megaphone could not out shout my LOUD horn!)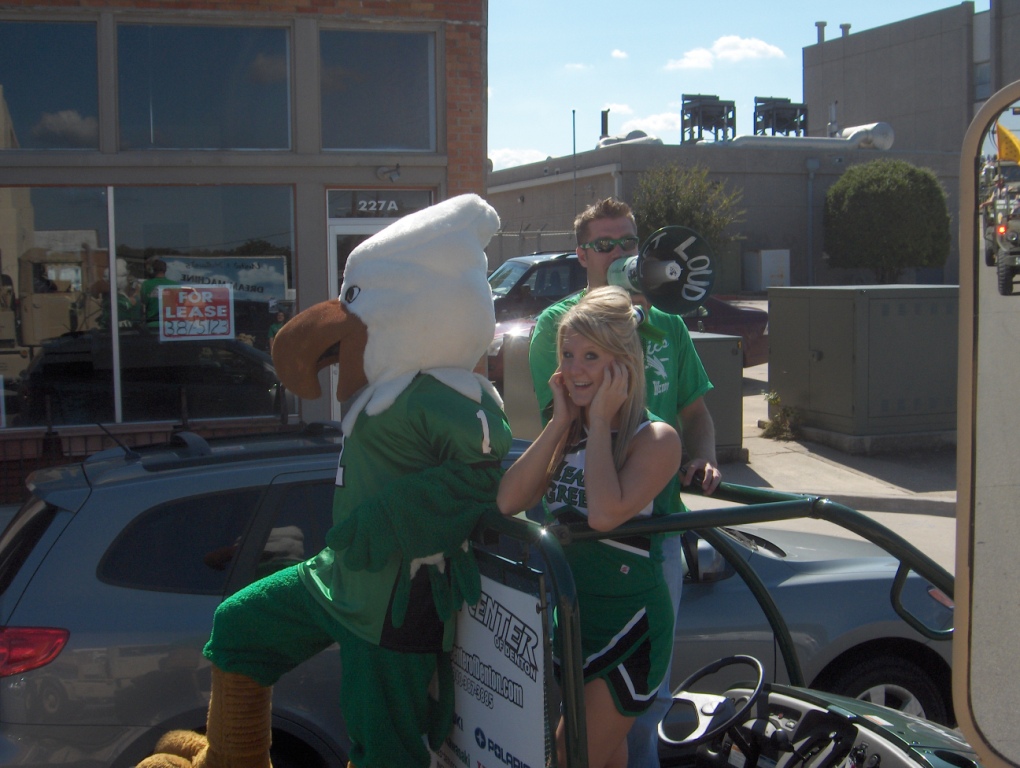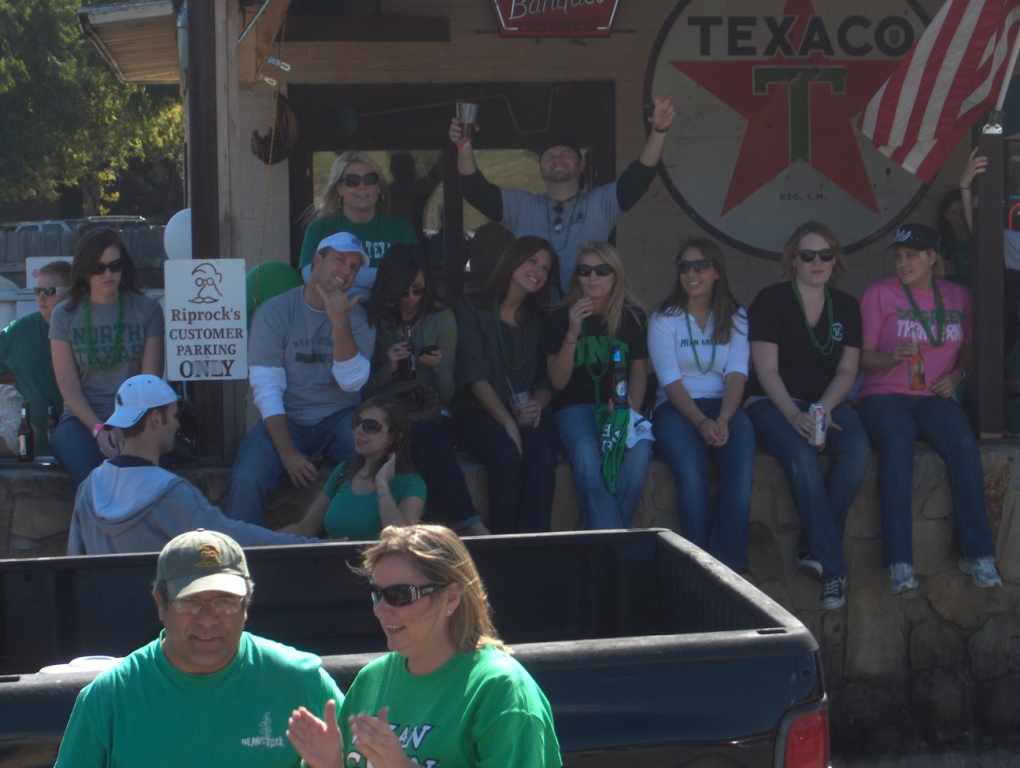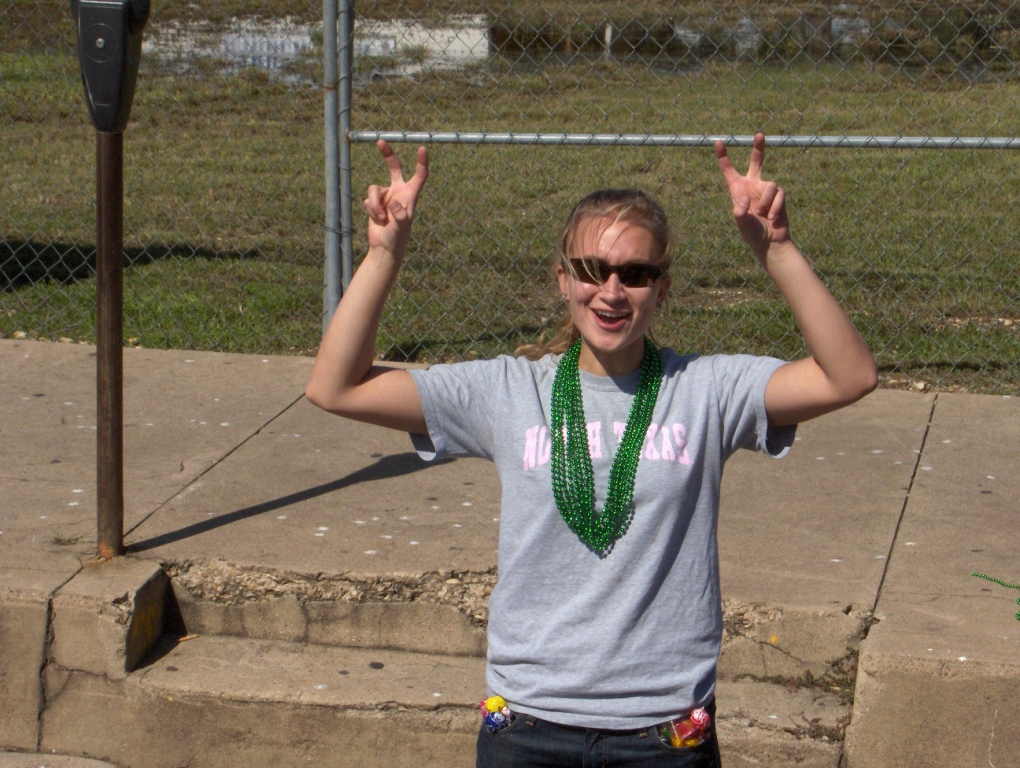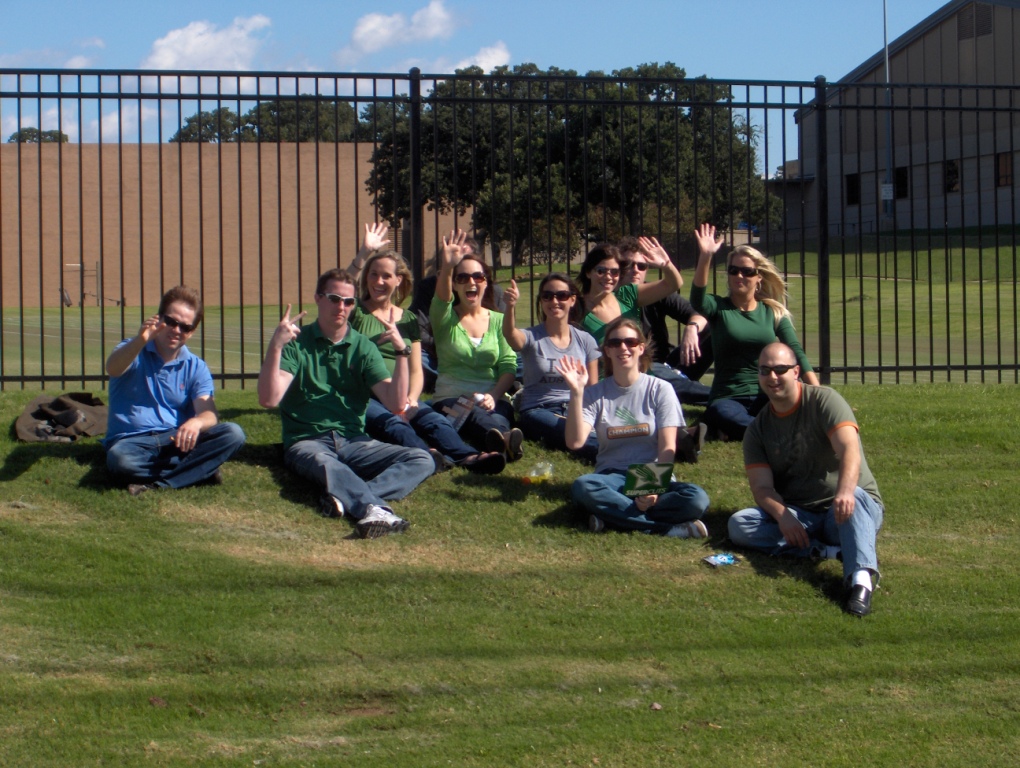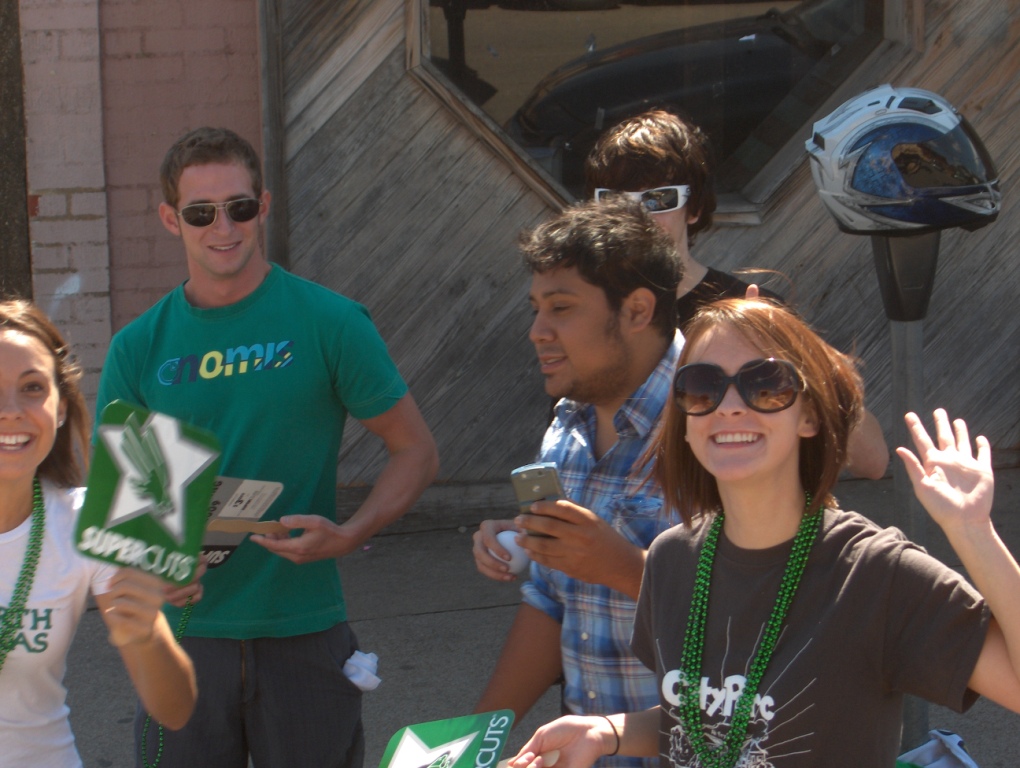 Does anyone know her?...The one in the UNT shirt. Wow! She is cute! Army truck ride? ...but leave your dog with your friend, please.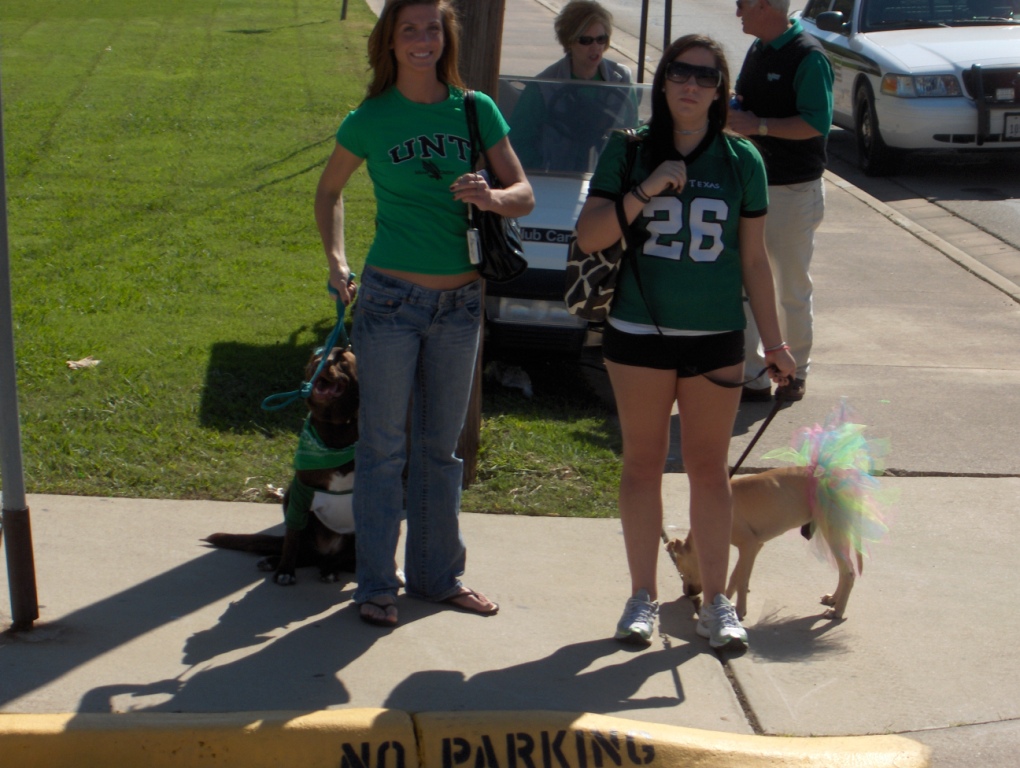 In some parades, the crowd is not controlled well. As you will see, sometimes it becomes too close to the viewers and I must especially careful with the truck and kids. I never throw candy, as I don't want the kids near the wheels of the massive truck. These parents clearly do not do a good job of controlling their children. I proceed very slow and easy with liberal use of the horn in situations such as this.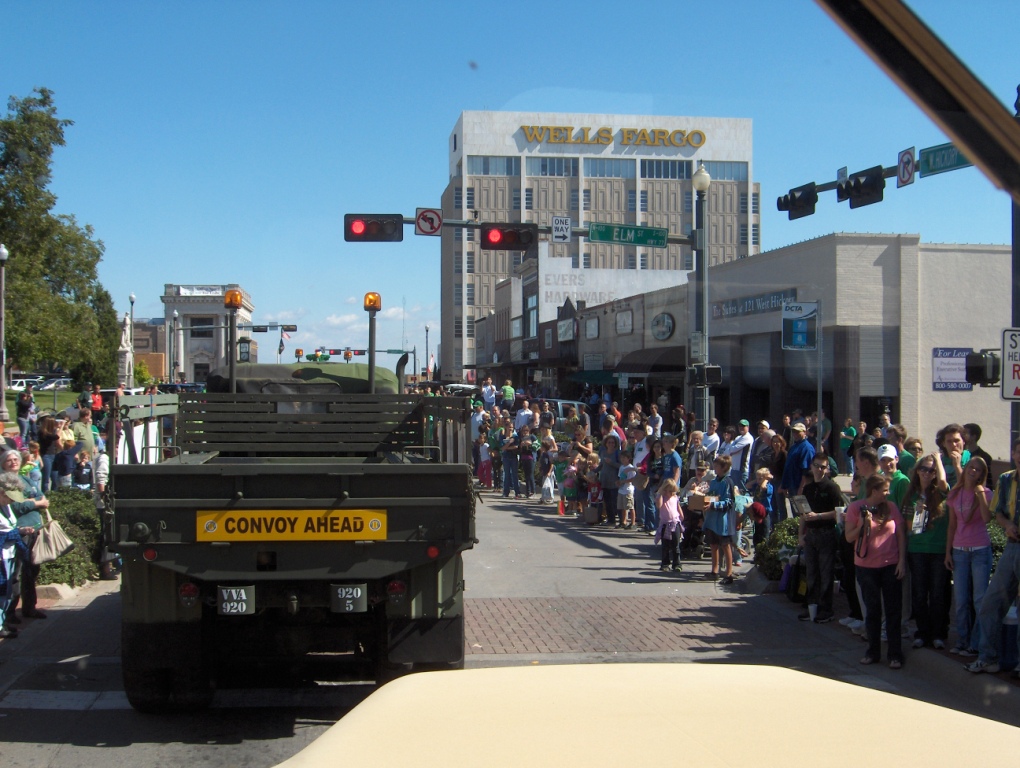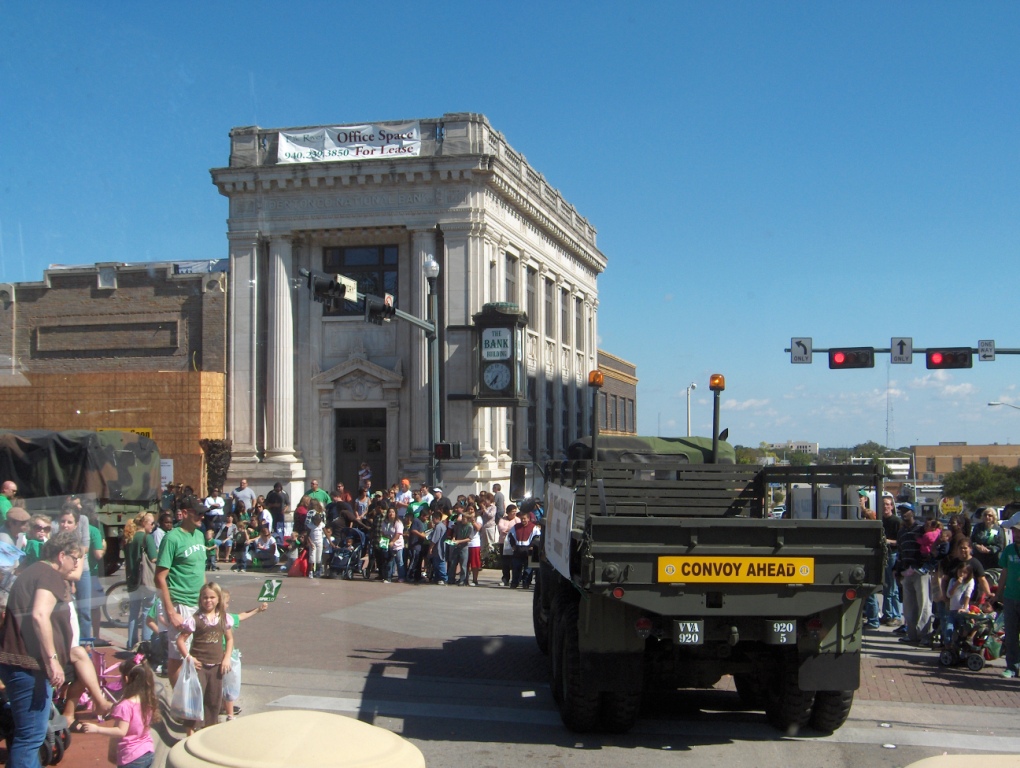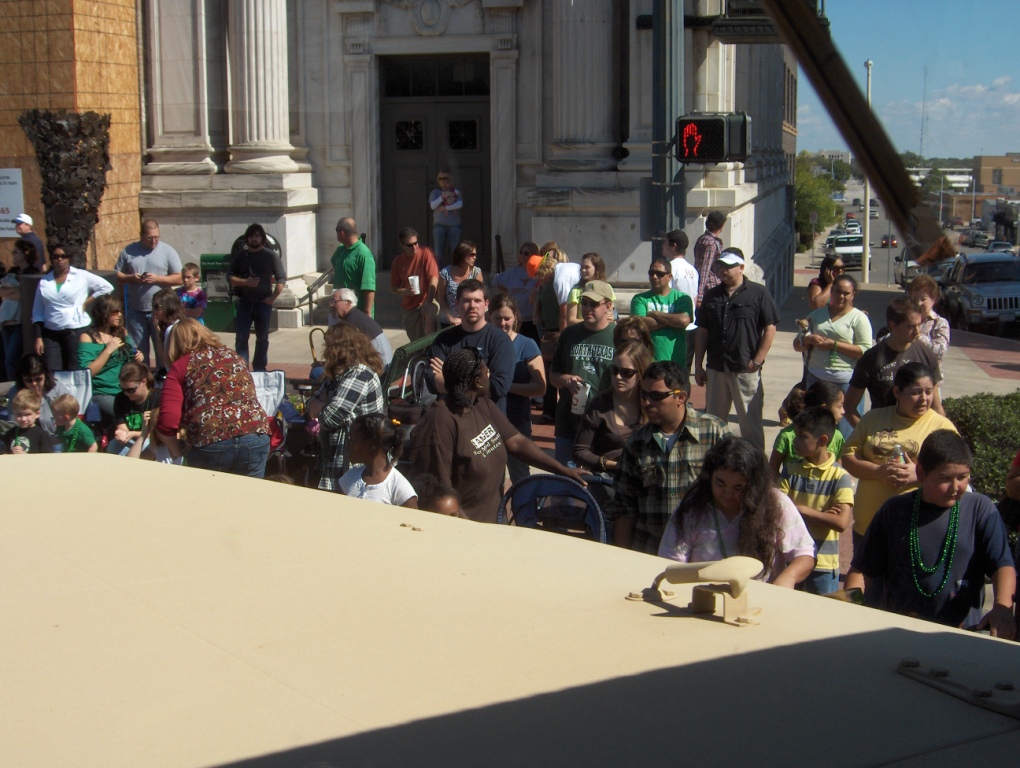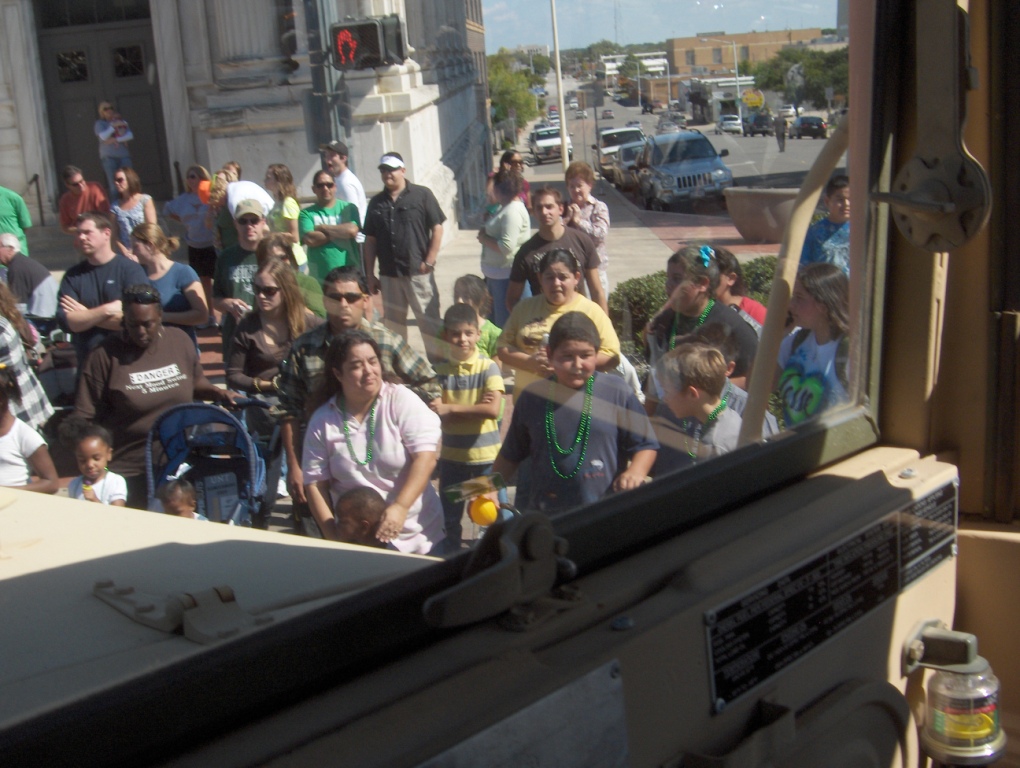 That's all for the M818. One awesome piece of military history.
This Web Page Last Updated by My Truck is Bigger Than Yours WebMaster 03/05/10