Click any of the links below for direct navigation to each page
Jeff's Cool Jeep Wrangler Unlimited (sold!!!)
New Arrival!!! 2008 Ford F450 King Ranch 4X4
Sea Ray 390 Express Factory Model
Kawasaki Ultra 250X Jet Ski now replaced by Ultra 300X!!!
Crazy Things I Have Seen While Driving

2008 Ford F450, 4X4, King Ranch, 6.4 Power Stroke Diesel
Nothing special about this, except:
| | |
| --- | --- |
| | Okay, I bought it used. You know it has to be immaculate for me to buy a used vehicle. |
| | Not an F150; Not an F250; Not an F350; This is the bad-to-the-bone F450!!! |
| | 14,500 GVWR. |
| | It has never pulled a trailer (until I bought it). |
| | Not a scratch in the bed. |
| | 14,729 original miles when I bought it. |
| | Previously owned by a Professional Basketball player of the Washington Wizards. Big deal, I don't follow sports, but someone kept this truck as their toy. Someone kept it cherry! |
| | Every option possible, including power factory sunroof, back-up camera, up fitter switches. |
| | A $7,500 stereo replaced the factory stereo. The $7,500 is just the components alone, not to mention the custom installation. Pioneer AVIC series head, two Focal K2 sub-woofers, two Focal amps, Stinger capacitor, extra Focal door tweeters, Focal door speakers, Pioneer multi-CD deck, and the sound is unreal. (I thought the Shack Daddy 1000 in the Shelby was great - this system is better!) This Pioneer AVIC head includes Bluetooth, download capability of your address book from your cell phone, and it's own built-in hard drive which stores 200 CD's worth of music. Of course MP3 input, multi-CD play capability, XM radio input, GPS navigation, TV input, and, an awesome back-up camera that is great to navigate this land yacht full astern or when coupling to a trailer. Honestly, I did not know the value of the sound system until well after my purchase. Check out a video of the Pioneer stereo head here. A detailed, long, boring video of Focal speakers is here. What'd I tell you? High end components! I have the K2 series. |
| | Rated to pull a 16,000 lb trailer with the receiver hitch and a 24,600 lb trailer with a fifth wheel hitch (not on this truck). The receiver hitch is the larger 2.5" x 2.5" versus the normal 2" x 2" box. |
| | 6.4 liter Power Stroke twin turbo V8 rated at 350 horsepower and 650 ft lbs of torque |
| | 5 speed automatic transmission |
| | Posi-traction rear axle |
| | Transfer case and fuel tank skid plates. |
| | Integrated factory Ford electric trailer brake controller with adjustable gain and digital display. |
| | Dual zone A/C and heat. |
| | Heated leather seats that smell soooo good! |
| | Memory gas and brake peddles that move in and out, along with memory seats, memory outside mirrors, you name it. |
| | External mirrors that electrically extend or fold in tight. They are cool. |
| | Integrated tailgate step. This is super nice. With integrated, folding midget stripper pole (check it out and you will see what I mean). It works great for those midget strippers! Pictures at 10:00PM! |
Now for the pictures...
The badge says it all "King Ranch F-450 Lariat Super Duty V8 Power Stroke"
Here it is peaking out of the museum. I flew my hometown yacht club burgee on the bow while I was flying the temporary paper plate on the stern. That will change once the regular plates are installed.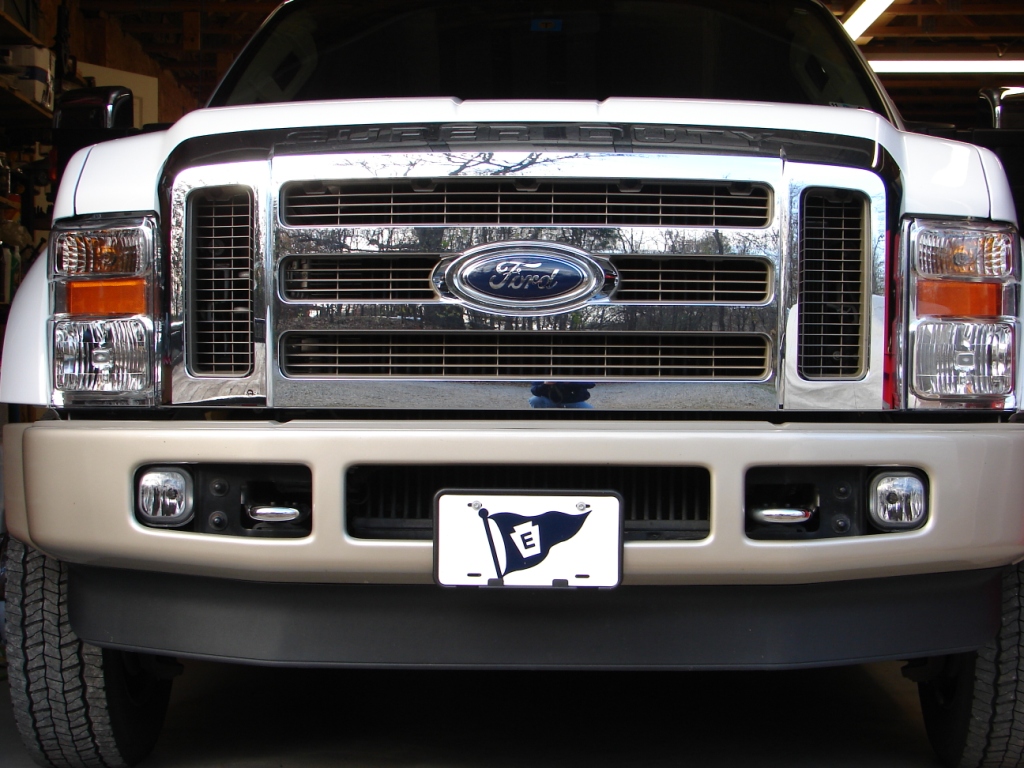 The interior is one of the most beautiful interiors I have ever seen. And the smell of the leather is great. Note to self: I'm weird. I keep towels on the floor mats in all my vehicles. Radio controls, A/C and heat controls, and cruise control in the steering wheel. The F450 has more technology than any other vehicle I own; even more than the Shelby.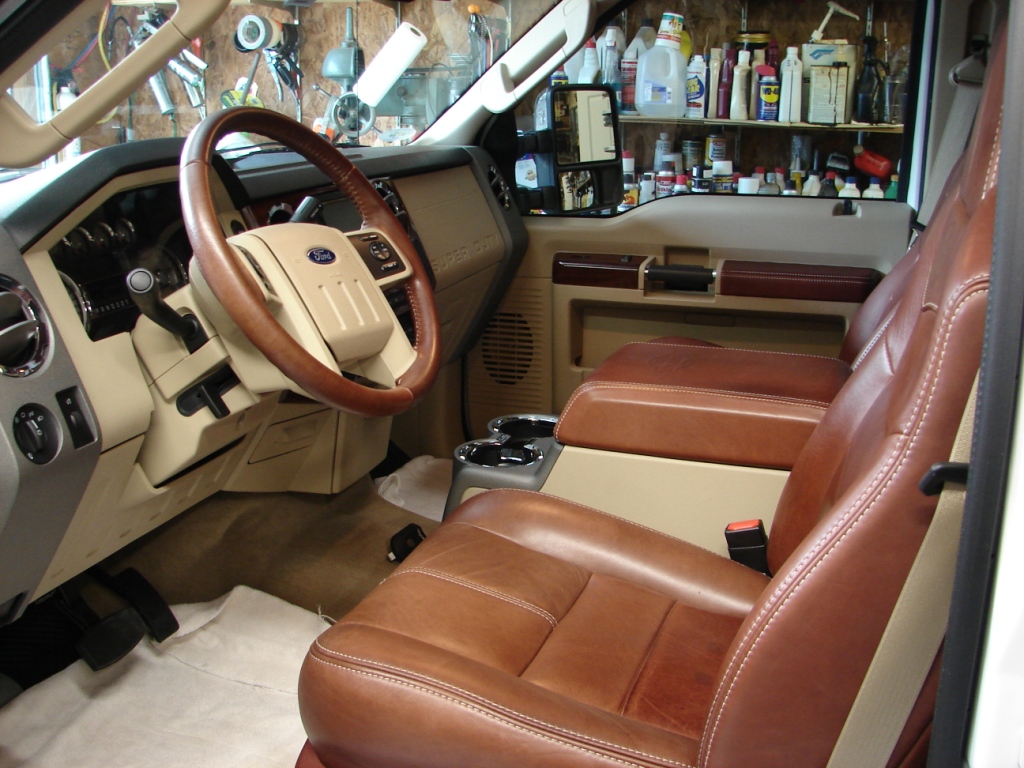 Hard to get into one picture. This was the first time it had been hooked to a trailer.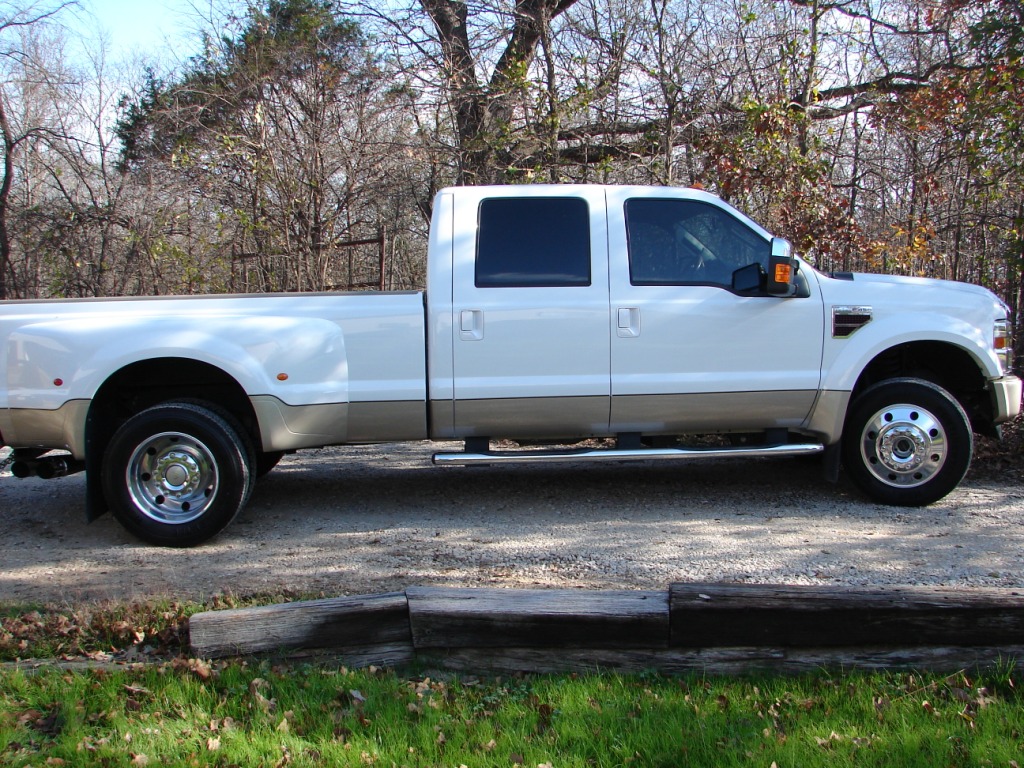 Super clean and I have not detailed it...yet.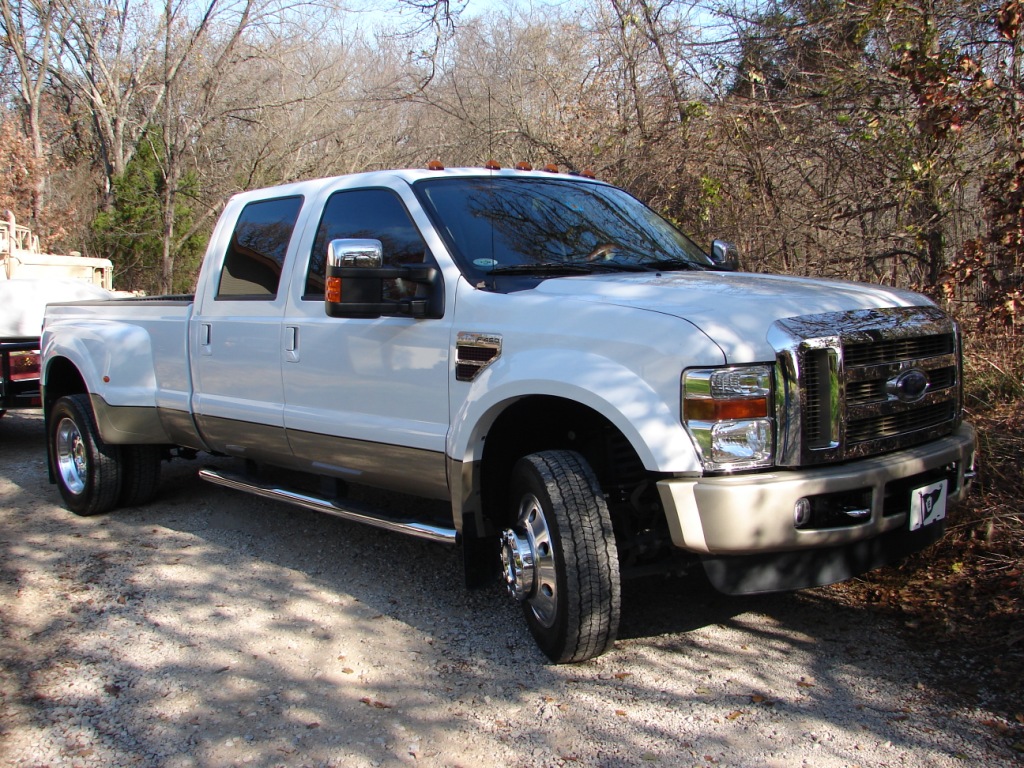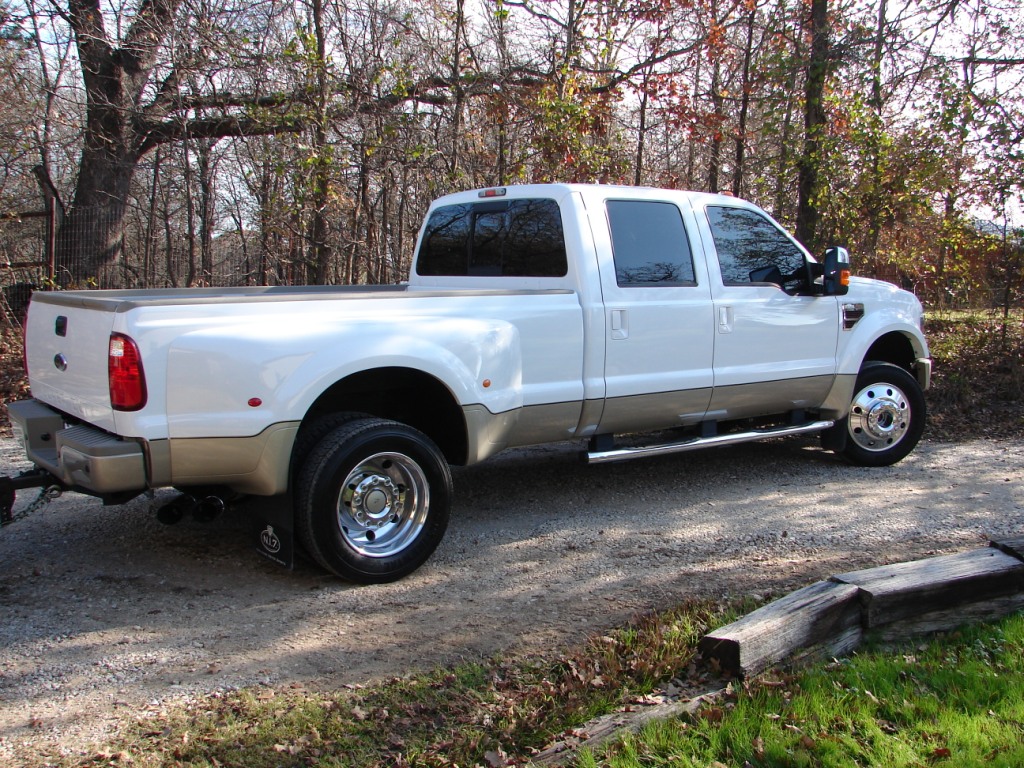 One awesome, modern day, Bluetooth enabled techno towing machine!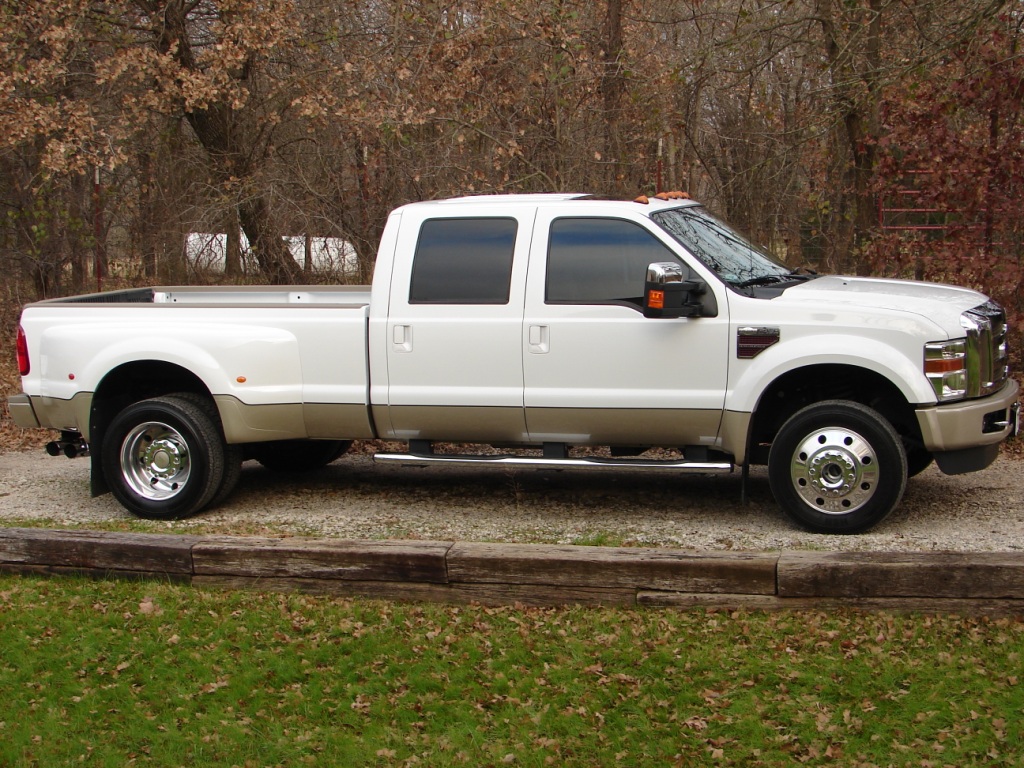 This picture provides a good size comparison. F450 Super Duty versus Crown Victoria Police Interceptor.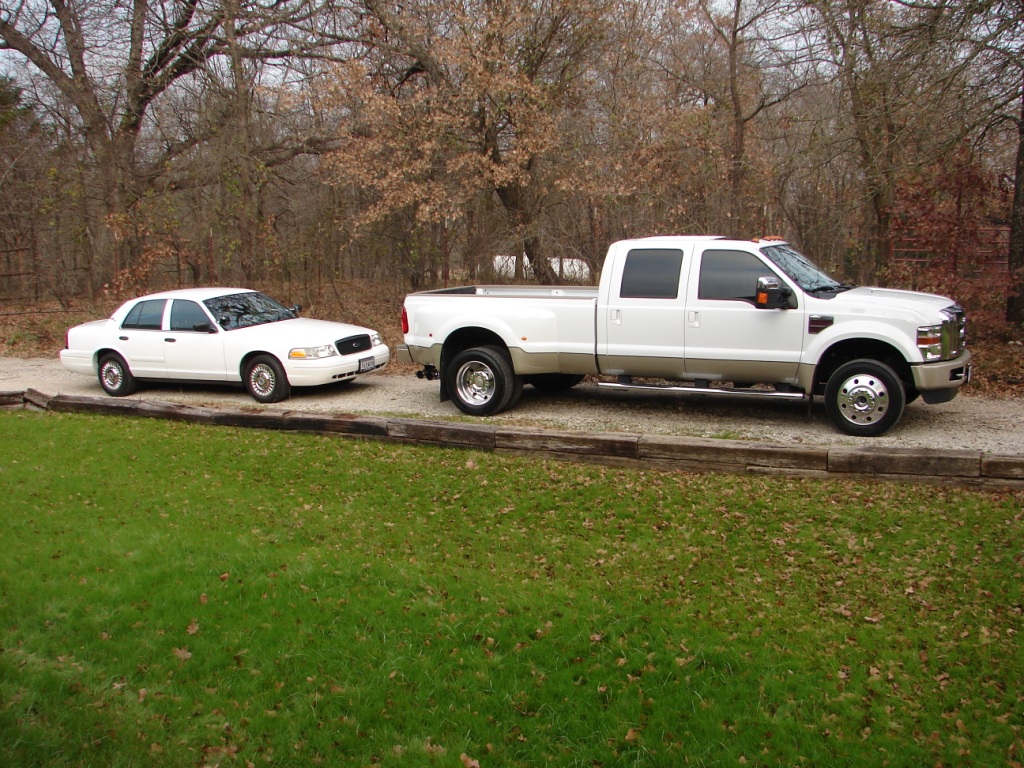 Hey, how about that green grass in December! How do I do it?
Later!
This Web Page Last Updated by The Bad Ass Truck Loving WebMaster 03/05/10