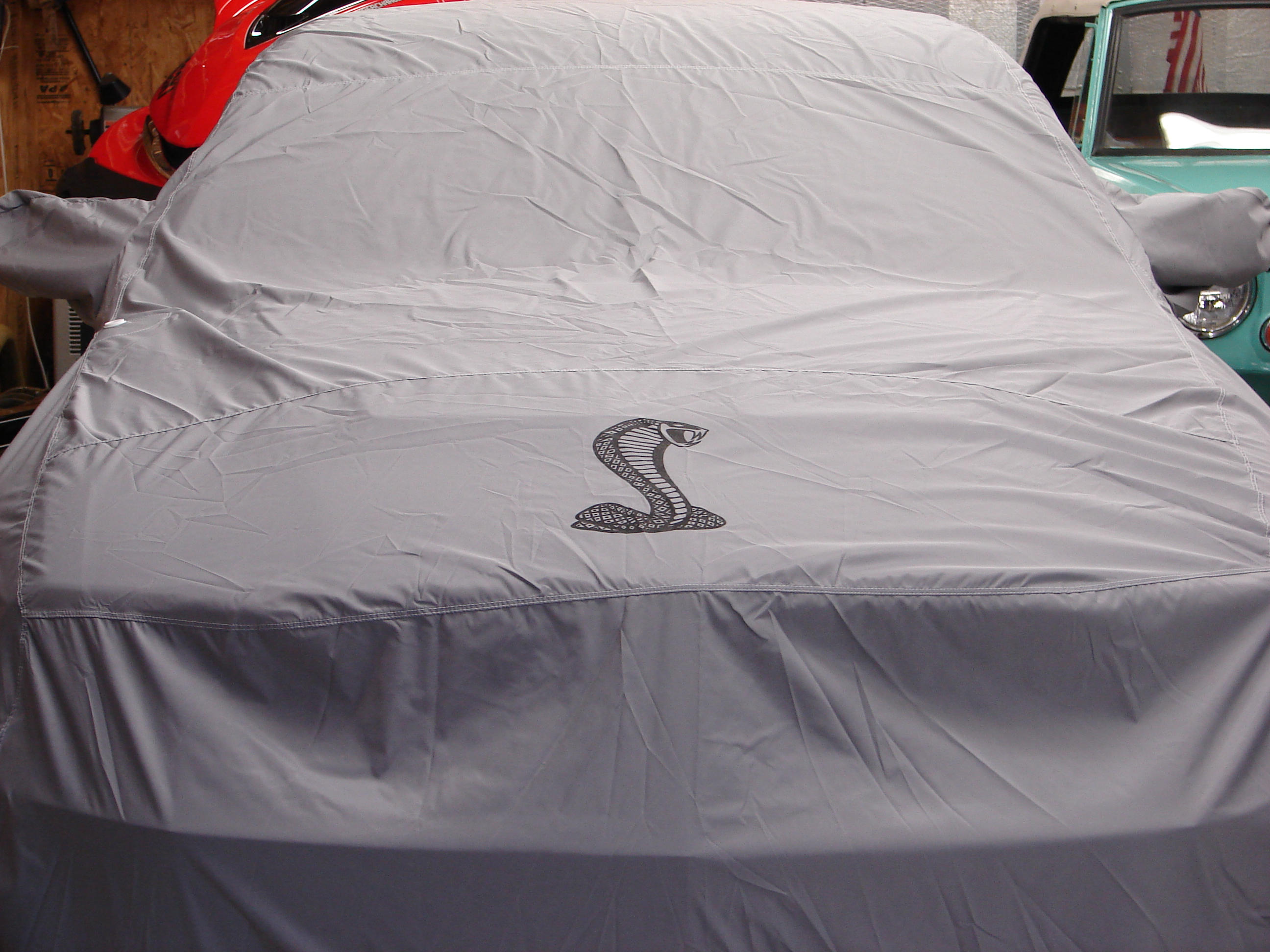 I must be on a horsepower kick, or a mid-life crisis....
you choose
I knew as soon as I watched a video of the new 2007 GT500 Shelby Mustang, I was going to own one. This car truly got me excited. Okay, some may consider that to be an impulse purchase, but I thought it through for at least 2-3 seconds. I pondered. What a car. Unbelievably awesome. ...and, how often does someone have the opportunity to purchase a brand new, 500 horsepower, factory produced Shelby? I could, so I did. Welcome to the United States of America! Thank goodness for capitalism! End of story.
Internet videos got me started researching the GT500's....and these videos ended-up costing me a lot of $$$.
Ford had some great Shelby GT500 videos on their web site, but they are gone now. Too bad.
Here is the current Ford web page on the GT 500:
http://www.fordperformancegroup.com/vehicles/?var2=0,0,10
Check out some of my favorite GT 500 videos below. There are a ton of them on youtube.com; just search and you will find many. http://www.youtube.com
Possibly the GT500 Ford commercial everyone knows the best...
http://www.youtube.com/watch?v=3ObUXS4KD7s
Here is the video of the installation of the first 5.4 liter, 500 horsepower engine into the first Shelby GT 500...
http://www.youtube.com/watch?v=8hnX31B34sQ
You just have to love the following video. Brand new, right of the dealer's lot....
http://www.youtube.com/watch?v=TG_cwilnkdA&feature=related
Okay, not a GT500, but no doubt this is what happens when you own a ticket red Mustang convertible.
http://www.godaddy.com/Shared/Video/hp-popupvideo-large.aspx?app_hdr=99&ci=15152&mediaid=speeding&isc=gppt02A876
This is my favorite video of the GT500. "500 Fordpower"... funny... and this gives a great feel for the performance of the car. "A buck thirty...thirty-five" Great supercharger whine!
http://www.youtube.com/watch?v=w_0_6n5uoU4&feature=related
Below is my second favorite video of the GT500. They could have found a prettier flag girl, but oh well. I have to admit, I would love to try this 9.5 mile stretch and I have always been fascinated with Route 66.. Check-out the average MPH from a standing start! No too bad! Outran the helicopter!!! (note: this link is broken and I believe CarPix has removed the video!)
http://carpixtv.vidiac.com/search/shelby/0/89c11728-597b-46fa-85ec-984f0116e562.htm
Just another day of play with some Shelby Mustangs....
http://www.youtube.com/watch?v=_TTalJLLy6E&feature=related
...and more Shelby playing with this video...
http://www.youtube.com/watch?v=k-hokBKWCxc&feature=related
Here is a good video of an exact duplicate to my car. This gives a good feel for the real sounds in a convertible. Check out the wide supercharger belt spinning and speaking of spinning, he catches a little scratch as he takes of. He runs the tack up pretty high, too.
http://www.youtube.com/watch?v=SSHPkHzjHoA
Not to worry, I won't be doing these tricks with mine...
http://www.youtube.com/watch?v=XcqtxKgcmuA
This Shelby must be in for warranty work at the local Ford dealer (never leave your Shelby out of your sight or this will be the mechanic and his test drive)
http://www.youtube.com/watch?v=94ZWATjhDA0&feature=related
I absolutely do not support this, but here is 120 in 4th gear on the streets. NOT safe at all, but it does have a six speed! Yes, two more gears beyond what this guy did.
http://www.youtube.com/watch?v=5c9om-k45L0
Here is a typical showroom video someone made. Most dealers have the Shelby's roped off.
http://www.youtube.com/watch?v=1jTgcD6xKB4&feature=related
This commercial was not my favorite, but is growing on me. Featuring Kelly Clarkson, and new Shelby GT500 and an original Shelby Mustang. The song got better about the fifth time I played it.
http://www.youtube.com/watch?v=e_6BRo9U998
America's industrial core flexing its muscles...This is a rather poor quality video of inside the Mustang factory. A few shots of Carroll Shelby are included. I also believe the burn-out at the end is of only a GT Mustang, not the GT500. Also note a quick glimpse of a torch red convertible on the assembly line with Carroll Shelby walking away from it. Maybe that one is mine?
http://www.youtube.com/watch?v=Dh8E7j104Ak
I have always enjoyed this commercial. Especially since I own my own P71 Police Interceptor. Note, this is only a Mustang GT, not the GT 500.
http://www.youtube.com/watch?v=luxulvwi0Vg
Although I plan to keep my Shelby 100% stock, I have thought about adding this modification. Too fun!
http://www.youtube.com/watch?v=h2q84Us4HgA&feature=related
My Shelby was ordered by the owner of a small town Ford, Lincoln, Mercury dealership in Missouri. This guy was a car freak and specifically a Shelby nut. He has owned something like 24 Shelby's. This one was going to be part of his personal collection until business was slow and he just finished a $2M addition to his dealership. He decided an expensive museum piece just did not make sense at this point in time, so he decided to sell. With only 10 miles on it, it found its way to my museum after I personally inspected it....thanks to Passport Transport, the trip in the enclosed trailer to Texas was problem free...
For you detail freaks, the car is optioned as follows:
| | |
| --- | --- |
| | Torch red clearcoat, otherwise known as "ticket red" clearcoat. |
| | 500 horsepower, 5.4 liter, supercharged, 4 valve per cylinder, V8 (these are the only Mustangs to come with the 5.4 "big block" V8. FYI - Today's "big blocks" are only 330 cubic inches, but generate much more power than the big blocks of the 1960's and 1970's). Of course, it takes premium fuel. |
| | 6 speed, Tremec manual transmission with dual ceramic clutch discs (not an option, but cool to have a 6 speed manual - and it shifts super smooth) |
| | Cloth black convertible top (the only color offered - too bad, it would look better with a white top) |
| | Gas guzzler tax of $1,300. Nice. Not an option. Thanks a lot. |
| | Sirius satellite radio with 6 months free subscription |
| | GT500 Premier Trim Package (upgraded interior, red leather in seats, red in armrests, compass in mirror, aluminum pedal covers, leather stitched shifter boot and dash) |
| | Shelby white tape stripe (the convertibles only come with the boot stripe - no top stripes) |
| | Shaker 1000 audio system (killer system - unbelievable, 10 speakers, 1,000 watts, all factory, also plays MP3 format and has MP3 input jack in console). Otherwise known as the "Shack Daddy 1000". |
| | Full (factory) vehicle cover and storage bag (as seen in the above picture) |
| | Of course, all of the other Shelby standard features...Goodyear 18" Supercar tires 255 x 45's on front and 285 x 40's on rear, Brembo brakes, dual stainless exhaust, ABS, dual front air bags, heavy duty everything - radiator, drive line, strut bracing, dual side air bags (in seats), active and passive anti-theft system, Shelby badgeing, etc. |
| | Not an option, but cool is the soft bounce on the windows. When you move the door latch, the windows drop about 1" to clear the top. When the doors are closed, the windows bounce back up to tightly seal against the top. Clever. Also, when you run the convertible top down, the rear windows drop first, then the top lowers. As if by magic. |
Okay, a few pictures... Did I mention 500 horsepower? The most powerful Mustang ever offered to the public (currently, the GT500 KR "King of the Road" and the 2010 GT 500's are more powerful at 540 horsepower, unfortunately, there will only be 1,000 KR coupes produced per year by Ford and the prices dealers are attempting to obtain are crazy. Like $100K to $130K asking price. Sticker is about $78K). No thanks, as that is too much bling for me. Update: prices are more reasonable now, a/o January, 2010.
Okay pictures...
During my inspection at the Park Hills, Missouri dealership. Note battery cart and jumper cables, as the battery was D-E-A-D. As a note, there is so much parasitic draw on the battery, it drains down in about 30 days. Most new cars are similar.
I have many, many more pictures of the pre-purchase inspection process, but no need in overloading the Cebridge server.
Inside the truck upon arrival to my street. A beautiful early March Texas day, I might add. Only 650 miles and a few $$ later, the Shelby is home...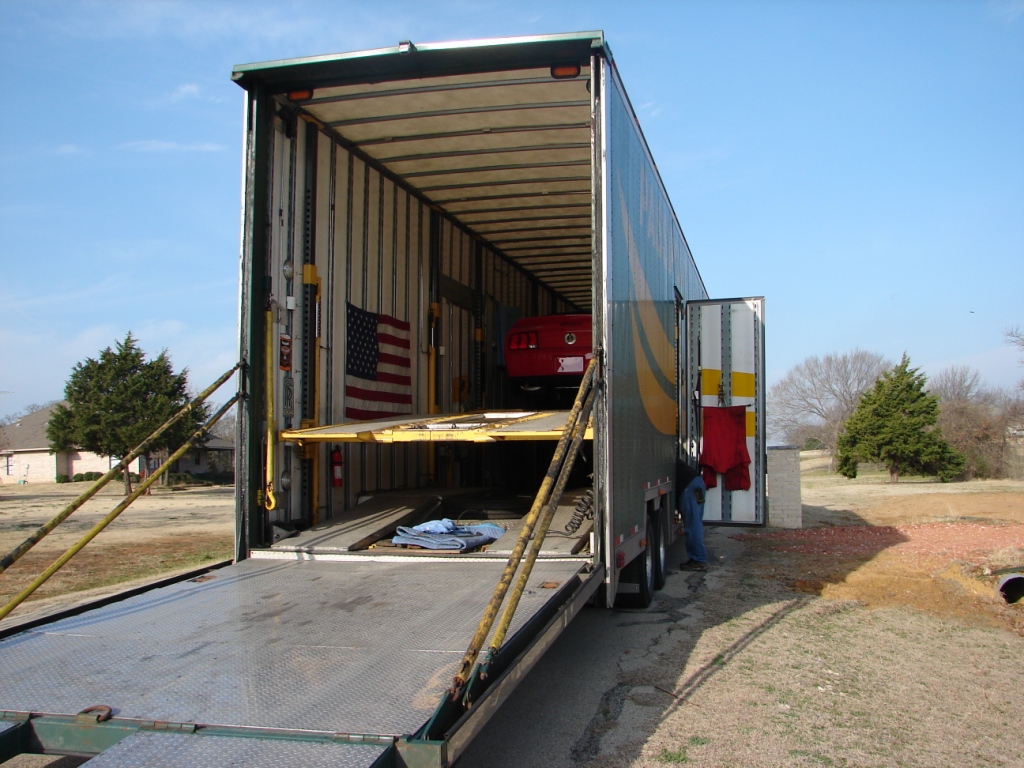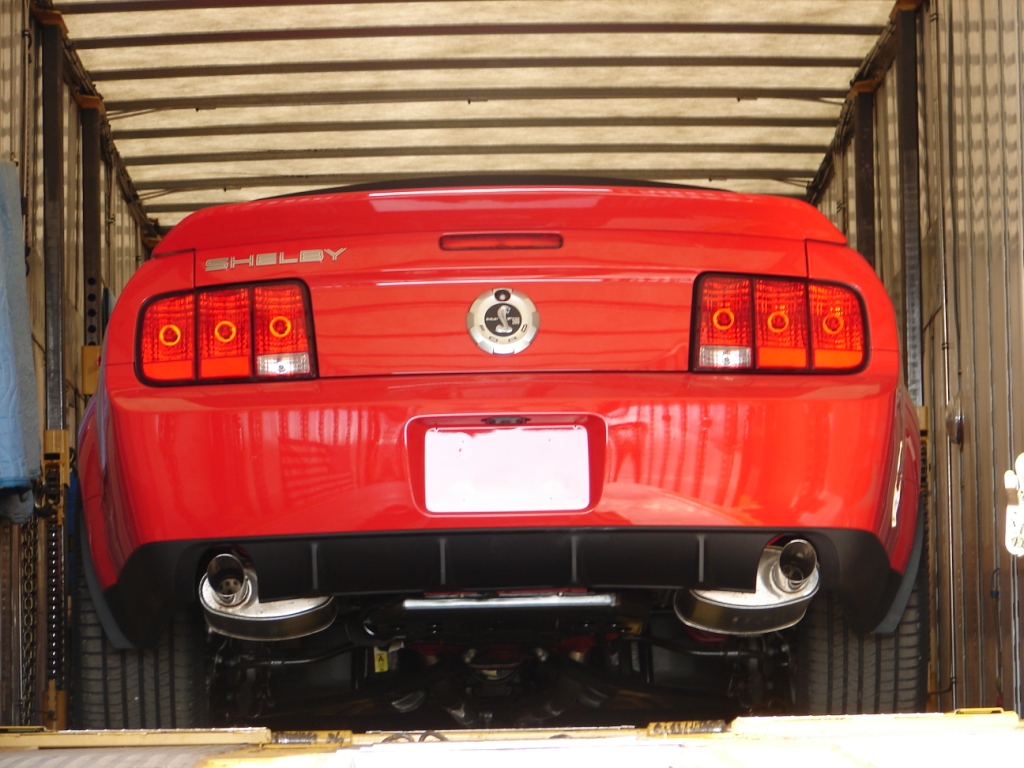 Only a few feet behind the truck and look what happens! No plates, no State inspection, but I do have insurance, Mr. and Ms. Officer! ..It's not stolen, I swear!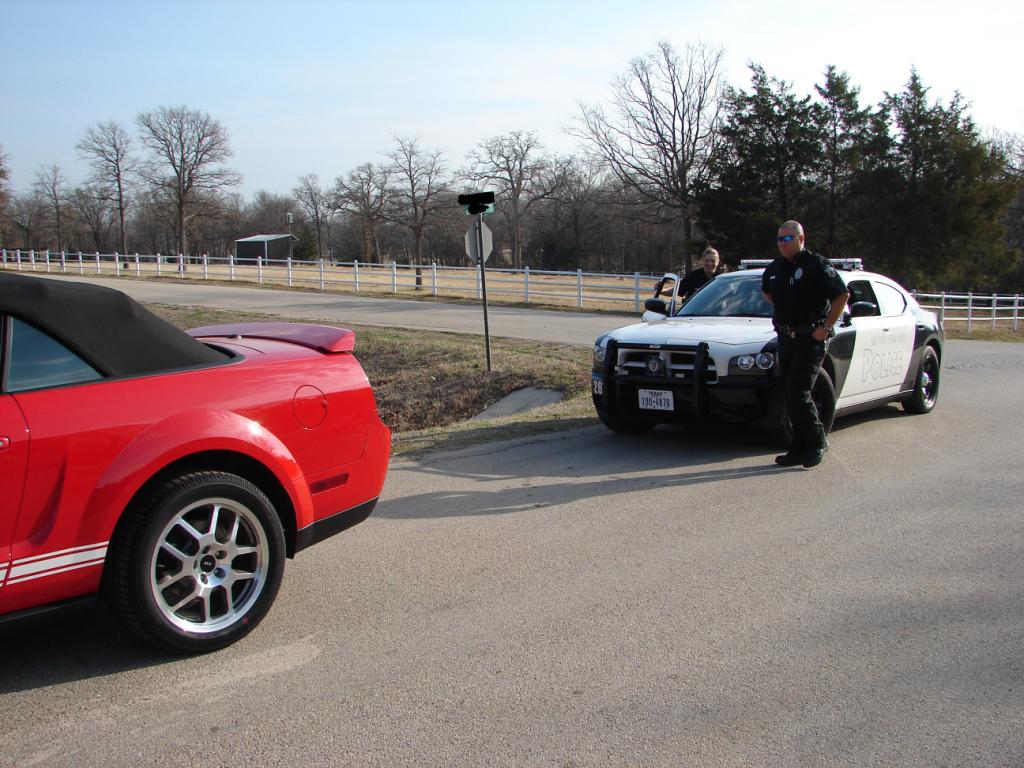 "Let's see how slow that Charger really is!"
"How about we race for pink slips?"
I tried my best to lighten the officers up a little.
Okay, it worked. Truthfully, they stopped just to see the Shelby, as this is big excitement for our small, rural town! We have the best Police Officers. Not only are they Texas certified Peace Officers, they are also individually trained and certified fire fighters and EMT's. Their shoulder patches list all three credentials. We are fortunate to have such skilled individuals to keep us safe in our small, quiet City...even if they touched my new toy, they are still great. Not many can say they received a police escort home!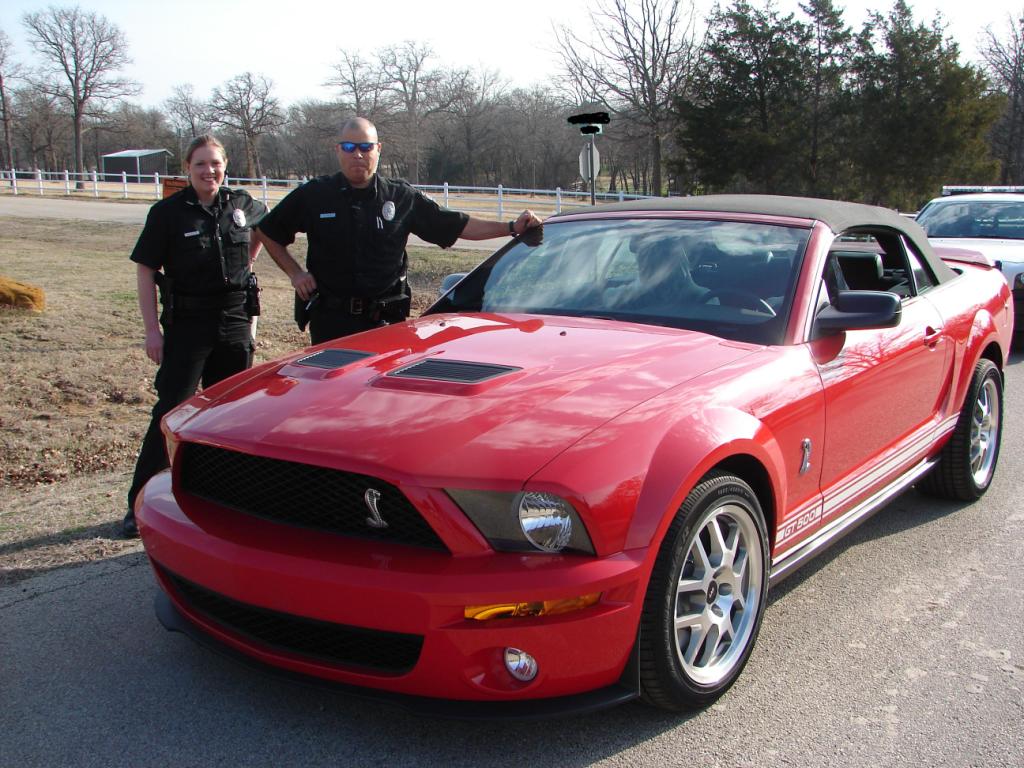 That's all for now. With only 215 miles on the Shelby to date, my only comment is AWESOME. The "Shack Daddy 1000" sound system is amazing and worth every penny I paid for the entire car. Unreal sound clarity and volume from the ten factory speakers. Oh yes, the car seems great, too. I have taken it very easy so far, as I want to break it in right. Of course with my very limited driving, it might never be fully broken-in! Maybe I should just hammer it right from the start!?
Breaking news....
Okay, okay.... are you ready for the license plates?
Are you sure?
Last chance not to look...
Here you go...
Do you think these plates might get me pulled-over?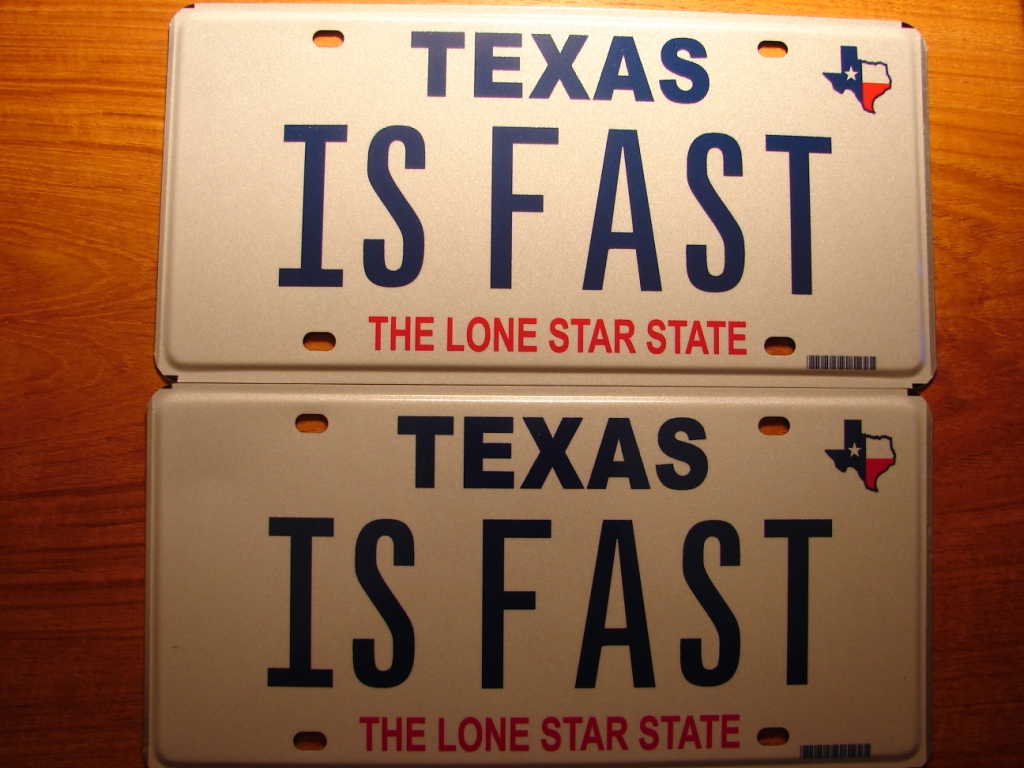 I'm looking forward to 2009 when Texas goes to seven numbers/letters. All we have now is six numbers and/or letters. Like a few other States, there will be so many more possibilities using seven characters on personalized plates.
How about a few more recent pictures with the top down? The Shelby looks soooooo much better with the top dropped. In fact, I have never driven it with the top up!
Note it this pic, the added, non-intrusive license plate holder. With the factory license plate bracket (not installed) you have to drill the bumper. Not me!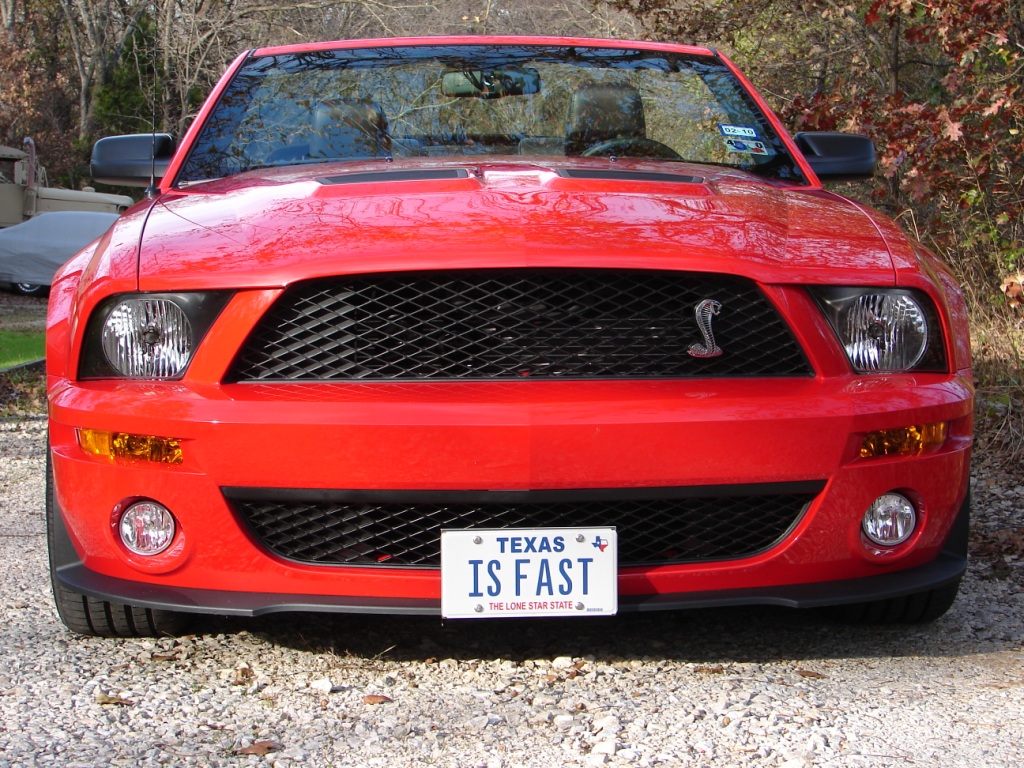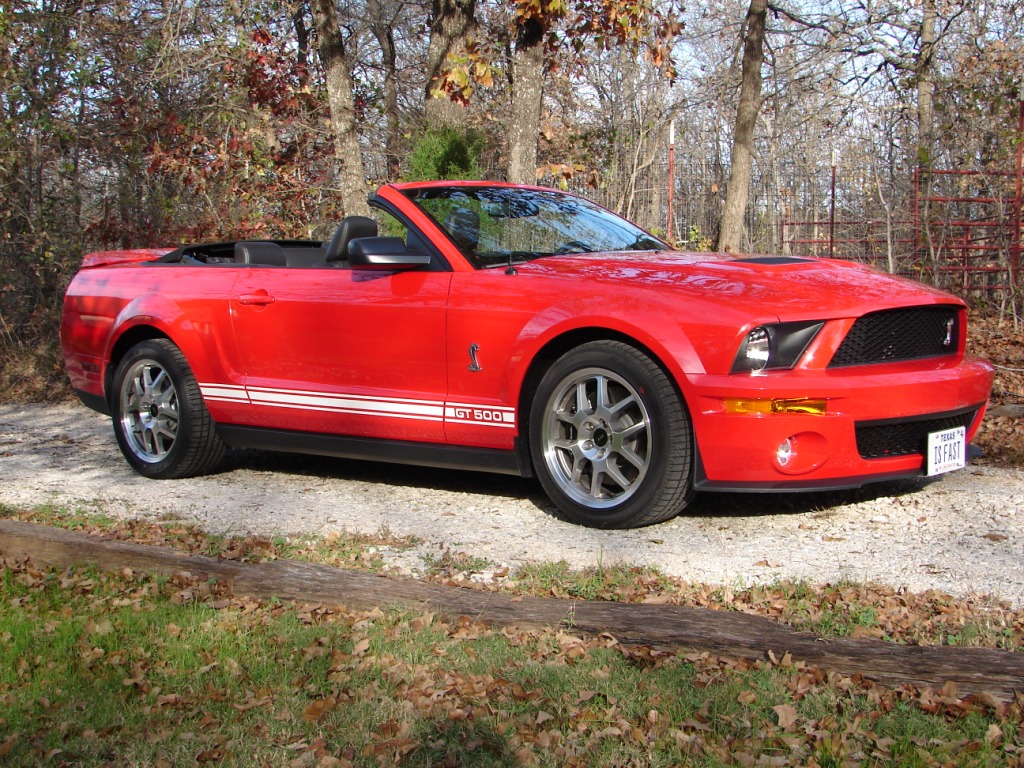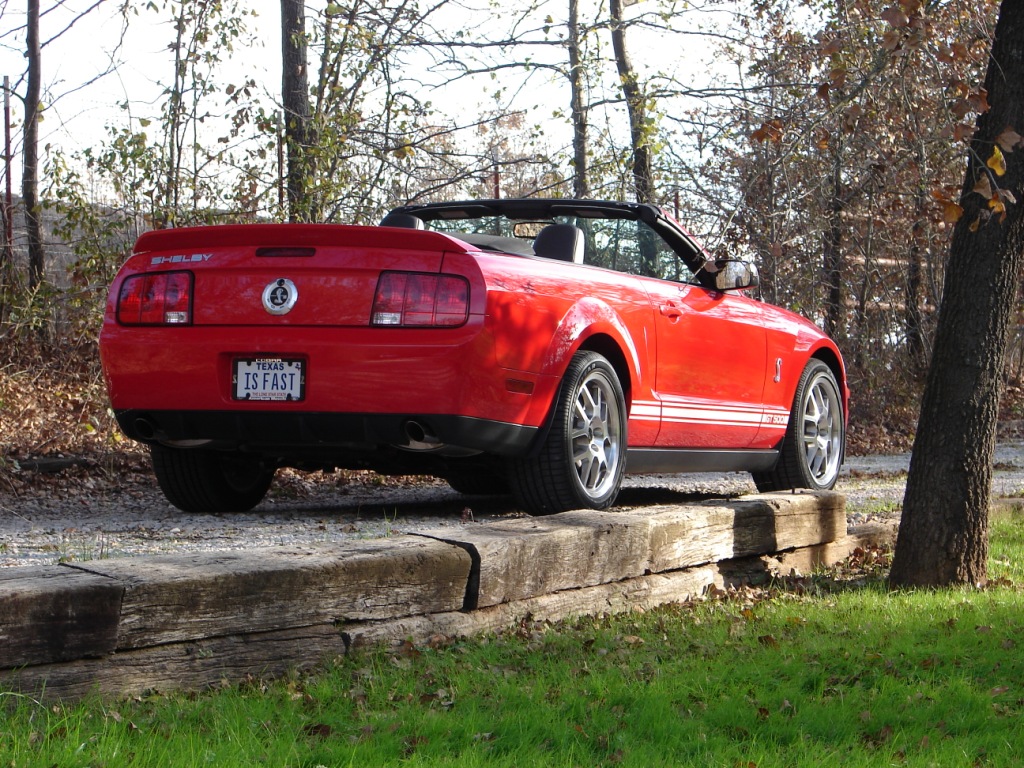 See ya!
This Web Page Last Updated by the Shelby Driving, Shelby Loving, All American Muscle Car WebMaster 03/07/10