Kawasaki Ultra 250X 300X Jet Ski
Update: March, 2011... Ultra 250X replaced by Ultra 300X...Yes, 300 horsepower and many added features!
All I can say is the 300X is more refined than the 250X. It accelerates much harder and the pump discharge trim is great. Cruise control is nice. Yes, cruise control! Eco-mode...well who cares, but I use it if just cruising easy across the lake.
Here are just a few pictures...
They waited to un-crate it until I arrived... I insisted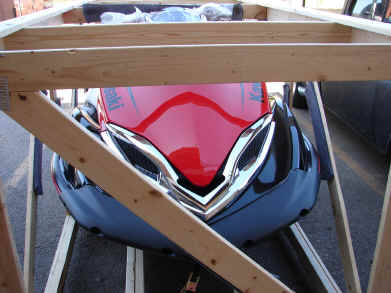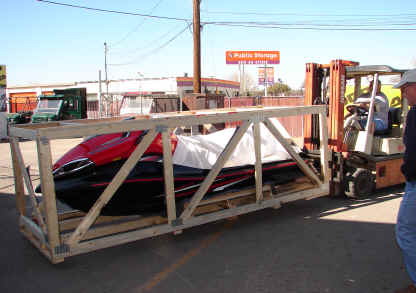 The Jet Ski switch-a-roo begins... changing trailers has never been so easy...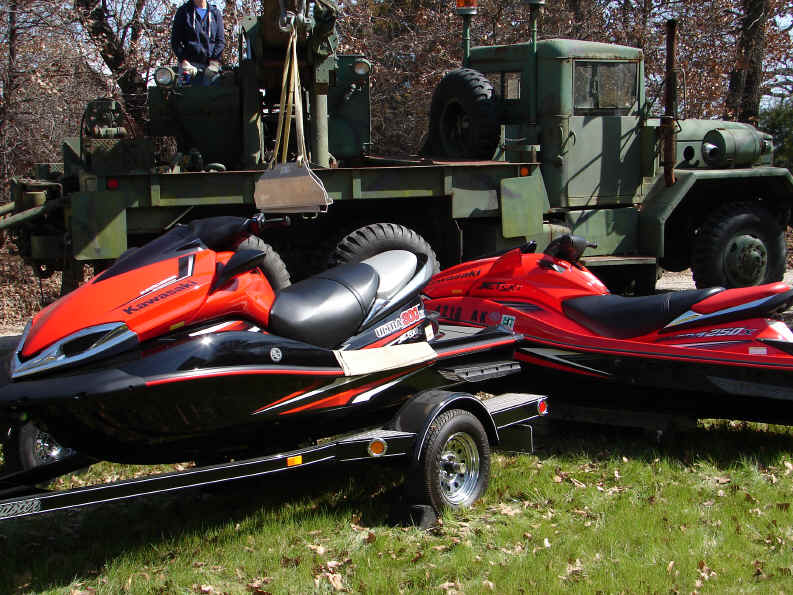 The M543A2 is handy for yard work.....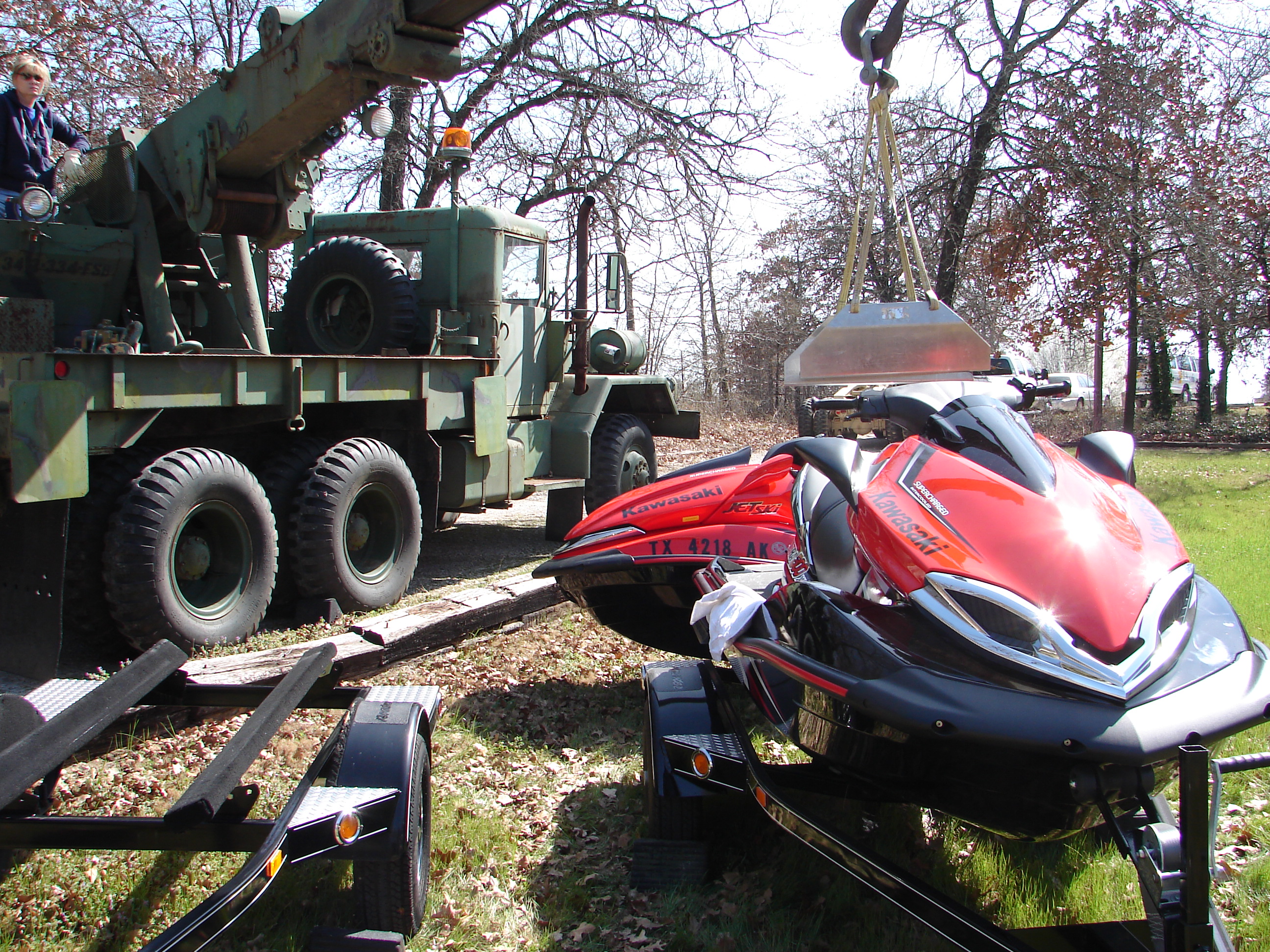 Note the partial fleet line-up...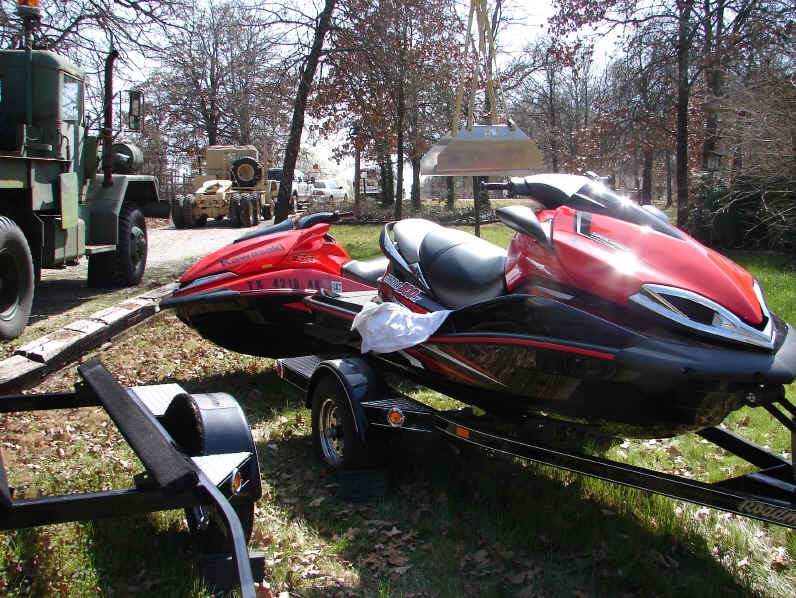 The world's best helper....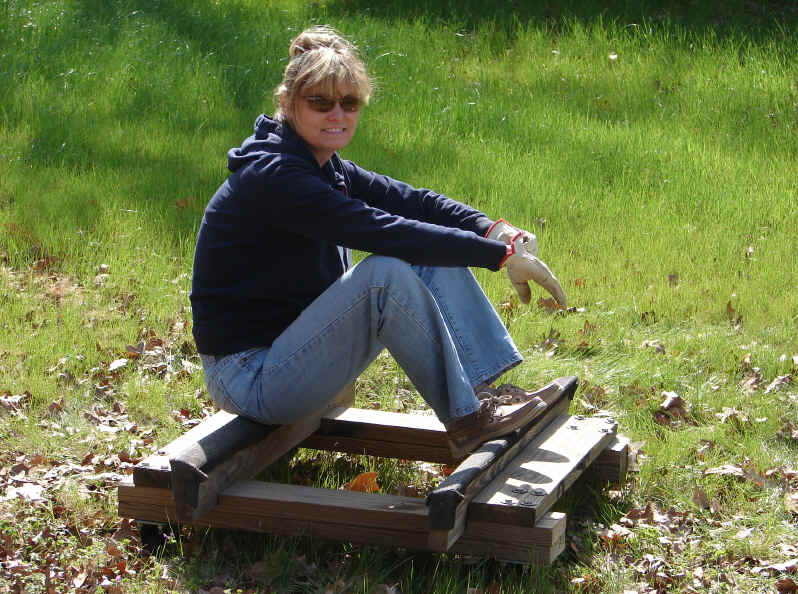 Click here to see a movie of the 300X in action!!! Be patient! This is a 26meg movie, so it will take time to load. This was downwind with the rollers on Lake Looneyville, Summer, 2011. Press your back button when finished. Also, check-out my Facebook page for multiple self-portrait movies of Ultra 300X action!!!
*******************************************************************************************************************************************************
Okay, here is the old write-up on the 250X...
This is the bad boy of personal water craft. The most powerful stock personal watercraft ever produced [Updated 2008: Sea Do has announced a 255 hp machine. We all know 255 Sea Do hp equates to a mere 50 Kawasaki hp. I can't wait to line-up against one of those. Latest update 2009: Kawasaki kicks butt again, by unleashing the 260 horsepower 260X. Maybe there is one in my future! ]. I had owned my 1997 Kawasaki 1100 STX for ten years and 349 running hours and a 1989 Kawasaki X-2 before that. The 1100 STX was a great machine. It provided my children and me hours and hours of reliable enjoyment. When Kawasaki introduced the Ultra 250X, I just had to see one, but the ads arrived well before any actual units. The first opportunity I had to view one in person was at the Dallas Boat Show in February, 2007. The good news was that while a totally new machine, Kawasaki kept a few familiar features. It looked and felt like the Kawasaki's I have enjoyed over the years. I placed my order soon after.
Although mine took six weeks to arrive at the dealer, it was well worth the wait. Believe it or not, getting a new product in from a dealer without a mark or scratch is a tough challenge. It took two 1100 STX's to find one not marked. I was lucky in the Ultra 250X, as it was not too bad. Call me strange, but if I'm writing out a huge check for a toy, I want it in mint condition.
Okay, a few pictures and comments.
Brand New at the Dealership
(apologies for the Sea Doo Crates in the background - a good place for Sea Doo's. In the crate!)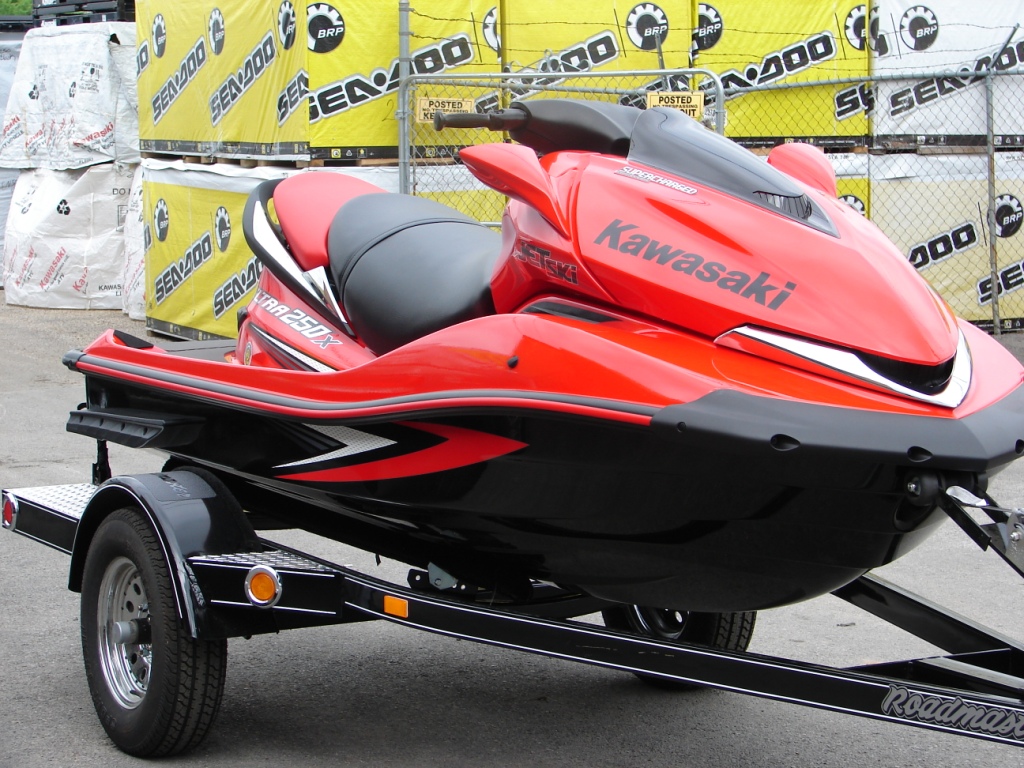 Always having fun!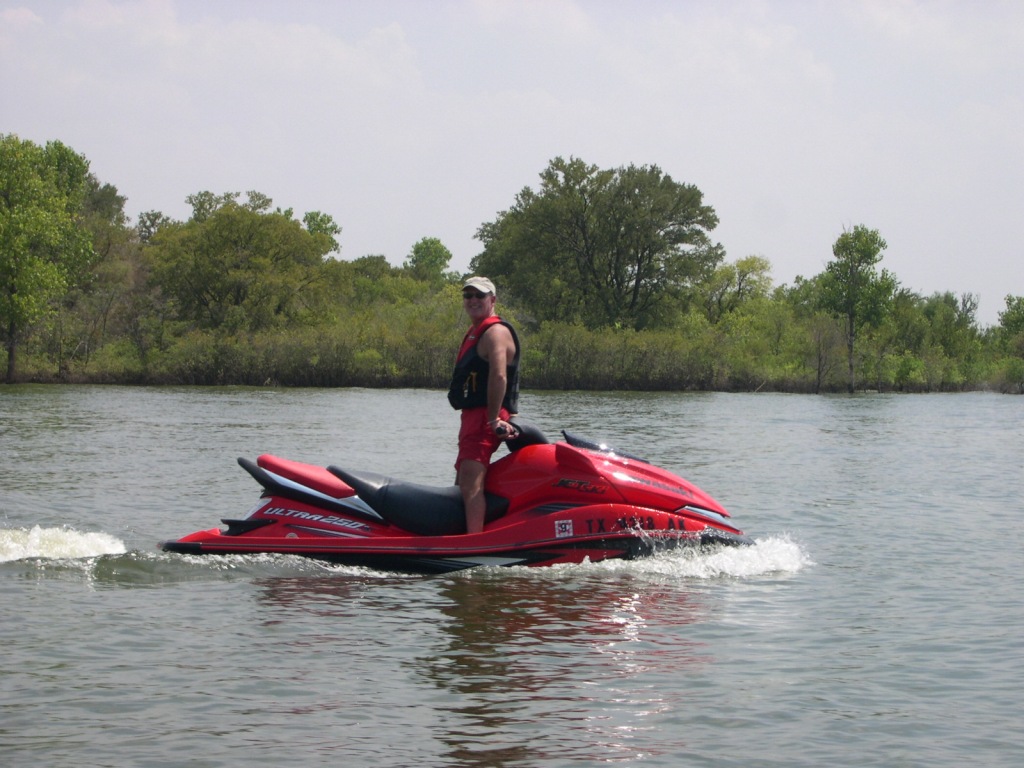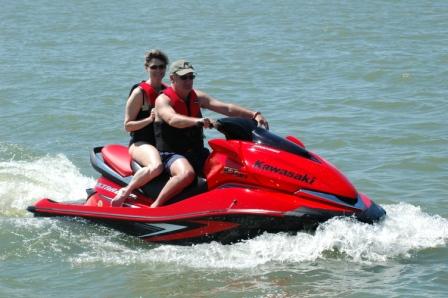 This was the first ride on the first C-O-O-L March day. I was breaking it in carefully, and the owner's manual calls for a break-in of 5 hours. I varied the speed quite a bit, and attempted to keep it below 5,000 RPM's or so. First mate on the back. Also pre-bow numbers.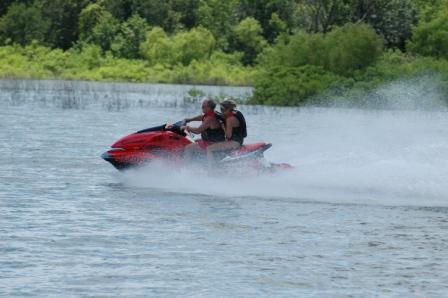 Finally, here we are in warmer weather in June, 2007. The lakes are full again and it's HAMMER time! The downside of all the rain is debris in the lake. 'tough to see everything, but hopefully I can avoid the logs, small children, and submerged picnic tables.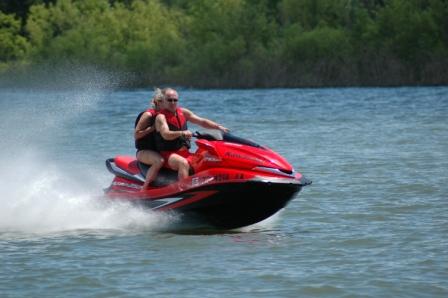 Another good picture taken by my friend Jim Bush. Yes, bow numbers now installed. Let me tell you, it's tough to run fast in choppy water. Nearing 70 MPH calls for glass. Look at the blur of spray! Becky is such a great sport to hang on tight. She is threatening to gain 50 pounds just so she can stay on the seat (no Becky, don't do that, I'll slow down.) It's a wild, wild ride! Acceleration feels like a sling shot or rubber band being let loose. Literally, you feel as though you are pulling a few G's when you accelerate hard. Max so far is 70 MPH and 7,590 RPM's. I'm hoping for a few more R's and M's once it becomes fully broken-in. Note: It turns out the digital speed-o-meter only reads to 70 MPH. Time for some GPS testing!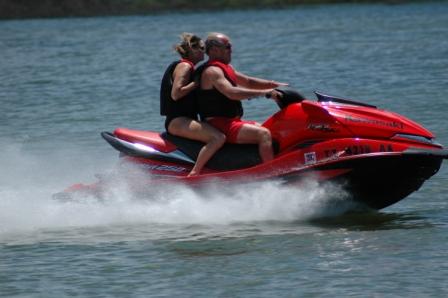 Another good HAMMER shot. If you look close, there is plenty of throttle left to squeeze, yet my face is rather flattened. Rounding corners it feels like it is on rails. Kawasaki Engineers did great with the new design that leans into the corner, like a motorcycle. 'Love the telltale cooling water stream on the starboard side indicating all is well in the 250 HORSEPOWER department. This machine is truly awesome! Hang on Becky, Hang on!
Did I mention 250 horsepower?
Oh yes - forgot to mention this one... one person, who's name I will not mention, wanted to race me on his Millennium Edition Sea Do big time. We attempted, but the first excuse was he needed new SPARK PLUGS. Then, he tried to hammer it, but it kept STALLING out of the hole. Did I mention, he was riding solo and it was Becky and me? (yes, that is correct - two aboard the 250X and one on the Sea Do). After providing a few tips to my anonymous friend, the See Woo began running okay. Then, each time we'd attempt to race, he'd stop or slow down. Hmmm... It's all in good fun.
Check out the factory promo details here:
http://www.kawasaki.com/Products/Detail.aspx?id=197
This Web Page Last Updated by Jet Ski Loving, Always Want to Ride My Jet Ski WebMaster 12/24/11