Okay, so check this out.....

A Sea Ray produced model of the 1988 390 Express.
I recall seeing one model in Mr. Pillsbury's office at Frank Pillsbury Sea Ray in Dallas, Texas back in the mid 1980's. Wow! I wanted it then. At one time, Frank Pillsbury Boats advertised themselves as the largest Sea Ray dealer west of the Mississippi River. Remember their pond out front with floating Sea Ray's? ...now the former Sea Ray dealer is an adult book store...
Sea Ray provides these models on a limited basis to their top dealers.
My particular model was a gift to a long-time Sea Ray employee at her retirement party at a Sea Ray plant.
I feel very fortunate to have acquired this model, as it is exactly the model, year, and color of my Mighty 390!
...and now for the pictures...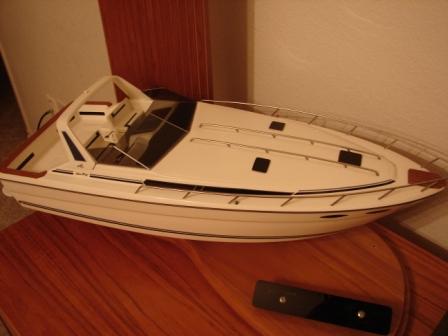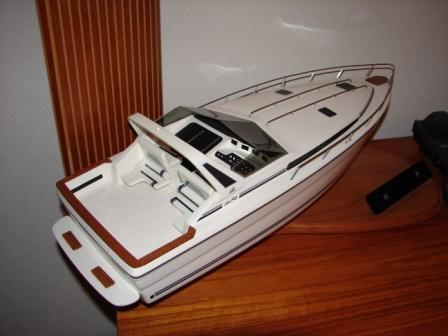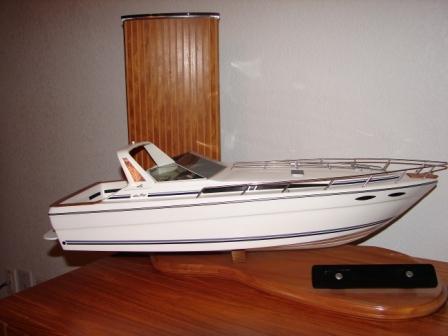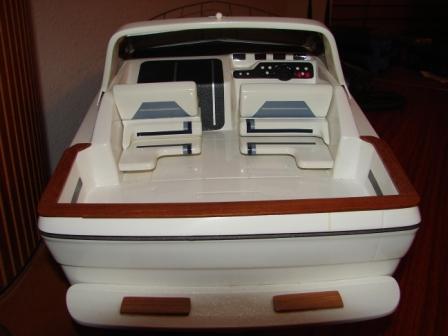 (Darn, why aren't the props counter-rotating???)
Amazing that I could acquire this model!
'Know of any other Sea Ray models for sale? Please contact me.
Update: A new Sea Ray model has been acquired. It needs some TLC, but will be looking good soon! It is a model of ~1984 340 Sedan Bridge given to a Sea Ray dealer for reaching the "Million Dollar Club". Stay tuned....
This Web Page Last Updated by The Darn I was lucky to find this model of a 390 Sea Ray WebMaster 03/05/10